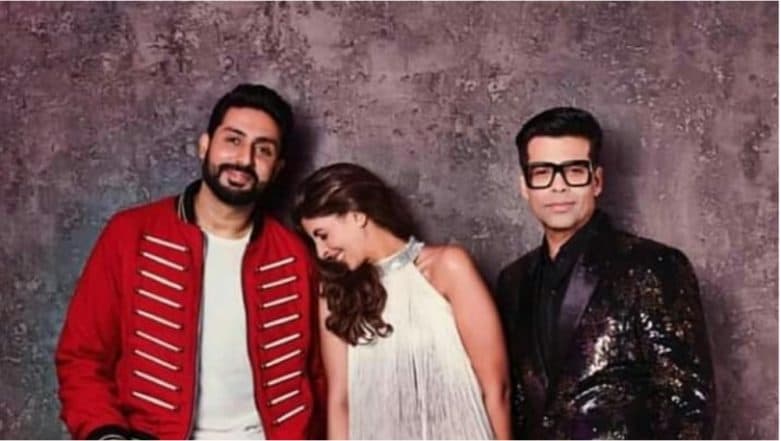 Karan Johar's most talked about chat show, Koffee with Karan is often criticised for its controversial content. The recent Hardik Pandya and KL Rahul episode will, in fact, go down in the history as the most disgusting and misogynist episode ever. Fortunately, the following episodes were able to get back the reputation of the show and restore our liking and faith in the chat shows of India. While Shahid Kapoor was lauded for being his true self in front of the camera, Abhishek Bachchan in his recent episode was tagged as a witty, cool and charming guy. Twitterati is praising Jr Bachchan for his conduct throughout the episode and how his upbringing has made him the man that he is. Koffee With Karan 6: Shweta Bachchan Nanda Reveals Why She Does Not Want Daughter Navya Naveli Nanda To Enter The Industry!
Abhishek is often praised for being a gentleman that he is. And the same trait was well highlighted when he graced the 'koffee' couch with his sister dearest, Shweta Bachchan Nanda in the recent episode. They were a classic example of how annoying but loving siblings can be and their camaraderie was fun to witness. Koffee With Karan 6 To Be the LAST Season After Hardik Pandya-KL Rahul Controversy? Here's Why Karan Johar's Chat Show Might Finally See The End.
Check out the social media love that's been poured on Bachchans for conducting themselves in a fine manner
Great show tonight with @juniorbachchan and @earth2angel. No rubbish & stupid controversies like previous episodes, just pure honesty and loads of sibling love!! Great to see! Ignore the haters! #KoffeeWithBachchans #KoffeeWithKaranSeason6 #KoffeeWithAbhishek @karanjohar

— Harvey (@Harvey_U) January 20, 2019
Perhaps the most boring episode of #KoffeeWithKaran this season was the one featuring Shahid Kapoor and his kiddo brother. @juniorbachchan as always was cool, witty and charming#KoffeeWithBachchans

— Gautham Shanbhogue (@ohmygaut) January 20, 2019
He was definitely worried about the actor 
@juniorbachchan kudos for being yourself at #KoffeeWithKaran . Typical sibling behaviour... Enjoyed the show. Just hope has least repercussions back home for you, thou!. #KoffeeWithBachchans @karanjohar

— Ankit Chudiwala (@ankitchudiwala) January 20, 2019
@juniorbachchan & Shweta are so cool!

Not being fake, genuine talks, good thoughts and everything is so positive around them. #KoffeeWithBachchans#KoffeeWithKaran @filmykiida @DEVenDrapai pic.twitter.com/qriScorK3o

— Vinesh Prabhu (@vinshyprabhu) January 20, 2019
Ab Jr has a great sense of humour and we are convinced
Loved Abhishek & Shweta on #KoffeeWithKaran. Abhishek has gr8 sense of humor n he is smart while it was gud to know Shweta, well brought up and a sober women ! Hope she makes it big in what she is doing these days ! #KoffeeWithBachchans

— Yo Yo Junky Singh (@Junkysingh1) January 21, 2019
#KoffeeWithKaran was damn entertaining today. Abhishek has the best banter with kjo 😂. Also Shweta's reply on why she doesn't want her daughter to be an actress was so on point. A very nice episode. #KoffeeWithBachchans #KoffeeWithAbhishek #KoffeeWithShweta

— Puneet 🧢 (@avaara_) January 20, 2019
I think @juniorbachchan is under-rated for the kind of sense of humour he has. He is a natural tbh.@karanjohar @KaranJoharTeam #AbhishekBachchan #KoffeeWithBachchans #KoffeeWithKaran

— Harleen Kaur (@_HarleenKaur) January 20, 2019
There comes a taunt for Hardik Pandya
@juniorbachchan is so cool!

ALL CLASS. Upbringing on point. You can see how well behaved and well-versed he is. Complete gentleman...#KoffeeWithBachchans #KoffeeWithKaran #KoffeeWithAbhishek pic.twitter.com/3F7ttHXnLO

— Vinesh Prabhu (@vinshyprabhu) January 20, 2019
How Relatable the #KoffeeWithBachchans episode was for anyone who has a sibling.@juniorbachchan you definitely have great sense of humour @karanjohar and the #KoffeeWithKaran @StarWorldIndia team it was indeed such a fun loving episode ❤️ https://t.co/UI5ZmS17py

— Sana (@iamsana_afreen) January 20, 2019
@juniorbachchan you are a very strong person AB... We can only imagine how much hate and trolls you get just because you are a son of a MEGASTAR and husband of a SUPERSTAR..IMO you are one of the most underrated actor..you seems to be a amazing human being. #KoffeeWithBachchans

— abhishek dwivedi (@abhishek_srkfan) January 20, 2019
It was indeed a fun episode to witness and we're glad Karan invited AB Jr to grace his show in this sixth season. From revealing the reason behind his mother's hatred for paparazzi to acknowledging that he didn't enter this industry to come and stand behind someone else, his confessions were genuine and straight from his heart. Here's hoping we get to see this side of him more often.