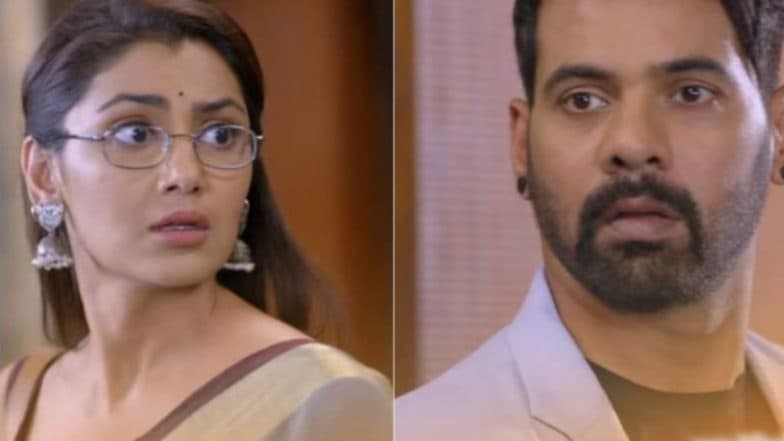 In yesterday's episode of Kumkum Bhagya we saw Abhi want to speak to Pragya but she is going with Rishi to the hospital. Disha shows up in a car and Pragya sits inside. Pragya finds out Rishi will be fine. He also feels Abhi must have beaten him up because he believes Priyanka more than Rishi. Abhi goes home and tells Priyanka that he needs to go to the police station with her to identify Rishi as her attacker. Abhi calls Disha asking for Pragya's number and finds out Pragya is sleeping already. Kumkum Bhagya October 9, 2019 Written Update Full Episode: Pragya is Disappointed With Abhi as He Still Doesn't Value Her Opinion. 
Tonight's episode starts with Sanju from Hoshiyarpur standing outside Prachi's new house. He tells his friend, Bittu that Prachi is living here and finds proof immediately when Prachi steps out to collect the newspaper. Sanju hides and comes up with a plan to woo Prachi the right way this time.
On the other side, Pragya (Sriti Jha) wakes up and says she is rushing to the police station where the lawyer is going too. Disha notices that Pragya is wearing good earrings. Disha wonders if Abhi will also be at the police station. She tells Pragya that Abhi (Shabir Ahluwalia) called her last night. Pragya says she wanted to speak to him then realizes she is angry at Abhi.
Meanwhile, Sanju sees Sarita going to the market and tries to help her get a cab. He takes a cab for her and gets in it too. He then helps her buy things in the market too but Sarita is irritated with him. He helps her bargain for tomatoes and Sarita is impressed by his skills.
On the other side, Priyanka is preparing what to say in the police station and how she plans to blackmail Pragya and Rishi. Abh knocks on the door and Priyanka decides to go to the police station with him. Meanwhile, Pragya is going to the police station when Disha calls Hritik to help her out. Priyanka goes to the police station looks scared and the inspector calls Rishi.
Later, when Sarita goes home she tells Prachi and Shahana that two boys named Bittu and Sanju paid half her bill today. She says that they were fooling her by trying to look like they were nice boys but she didn't believe them. At the police station, Rishi comes out.