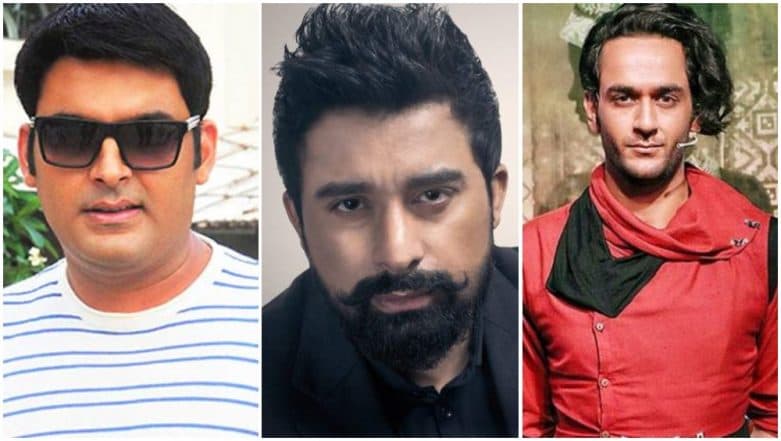 The day of love turned into a day of violence, bloodshed and hatred yesterday evening when an SUV carrying more than 350kgs of explosives, was rammed into a convoy carrying more than 40 jawans, in Jammu and Kashmir in what can be called, the deadliest attack in the last two decades. Claiming responsibility was Jaish-e-Mohammed, whose terrorist Aadil Ahmad alias Waqas Commando of Gundi Bagh in Pulwama rammed his explosives-laden Scorpio into the convoy. Pulwama Terror Attack: Political Leadership as Much to Blame as Pakistan For Kashmir Conflict
And while politics has already started to come into play, the entertainment industry heavily condemned the attack.
Here are some of the tweets below:
Kapil Sharma
पुलवामा आतंकी हमले में मारे गए जवानों की ख़बर सुनकर बहुत दुखी हूँ।ईश्वर उनकी आत्मा को शान्ति दे, और उनके परिवार को इस कठिन घड़ी से लड़ने का साहस दे।पूरे विश्व को एकजुट होकर आतंकवाद से लड़ने की ज़रूरत है। #shame #PulwamaAttack #KashmirTerrorAttack #neverforgetneverforgive #CRPF

— KAPIL (@KapilSharmaK9) February 14, 2019
Vikas Gupta
It's heartbreaking to hear about the lives of soldiers that were taken. One life taken is one family uprooted and their loss cannot be even understood by us. We can only tweet and say we condemn it.

— Vikas Gupta (@lostboy54) February 14, 2019
Rannvijay Singha
This is so sad.When will this stop.40 CRPF Jawans have been martyred.This is the worst terror attack in J&K. #Pulwama

Deepest condolences to the family of the martyrs and I pray for the injured.#KashmirTerrorAttack

— Rannvijay Singha (@rannvijaysingha) February 14, 2019
Sumeet Vyas
This is the most enraging act by a human being to another. I don't think it deserves a reasonable response. #terrorism is beyond reform. These Scums don't deserve to live. Hunt them from their holes and put them down. #PulawamaTerrorAttack #unforgivable #RIPBraveHearts https://t.co/0Q0lIiDniQ

— Sumeet Vyas (@vyas_sumeet) February 14, 2019
Ali Asgar
Shocked and saddened at the #PulawamaTerrorAttack ! Our heart goes out to their Families and share their grief. My thoughts and prayers with their families 🙏

— Ali Asgar (@kingaliasgar) February 14, 2019
Shantanu Maheshwari
Deeply saddened hearing about the #pulwama incident..... Prayers, love and strength to the families of our martyred soldiers....

— Shantanu Maheshwari (@shantanum07) February 14, 2019
Mohit Raina
Rest in Peace,brave sons of India. When will they realise there is no FREEDOM because there is no SLAVERY.Just being played by few self centered,greedy people with malicious intentions.Loss of life is just pure loss of life.Hope someday sense will prevail 🕯🕯🕯#Pulwama #sad

— mohit raina (@mohituraina) February 14, 2019
Rajeev Khandelwal
It is really really sad to hear about the death of the CRPF personnel in Kashmir. Such mindless killings orchestrated by the enemies of peace and harmony will lead to more hate. I feel for the families of the soldiers who lost their lives.

— Rajeev Khandelwal (@RK1610IsMe) February 14, 2019
Sunil Grover
Heart goes out to the people who lost their lives and their families. The whole nation is feeling the pain. Prayers. 🙏#KashmirTerrorAttack

— Sunil Grover (@WhoSunilGrover) February 14, 2019
Teejay Sidhu
Seriously.. No words. 🙏 pic.twitter.com/HKxeAzBpEF

— Teejay Sidhu (@bombaysunshine) February 14, 2019
Gauahar Khan
Shame! What kind of a human kills another????? Absolutely disgusted n saddened by sooooooooo many innocent #crpf personnel losing their precious lives in the name of hatred/politics/power ! #prayers 🙏🏻😢 #PulwamaAttack

— Gauahar Khan (@GAUAHAR_KHAN) February 14, 2019
The Pulwana ambush comes almost 3 years after the Uri Attacks in Kashmir, where 4 armed militants ambushed an Indian Army Base in Uri, killing almost 19 army men. And while the nation is up in arms and is demanding another Surgical Strike, the Indian Army is yet to take a call on the same. Our respects to the slain jawans and condolences to their grieving families.