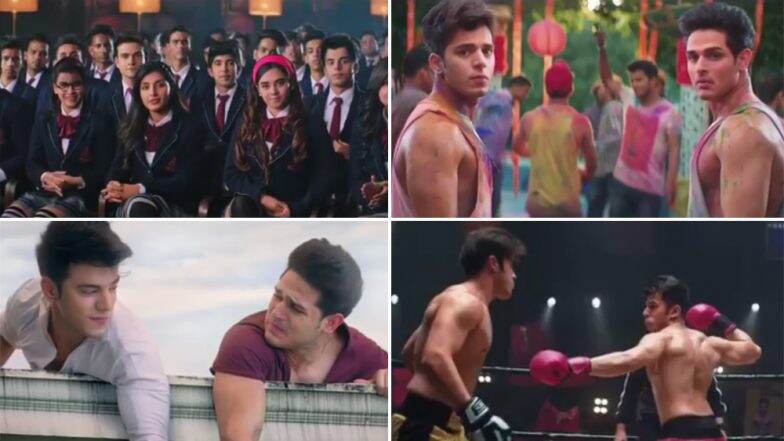 The countdown for Vikas Gupta's PuncchBeat has begun. With only 7 days to go, the makers released the show's final promo and it only promises loads of drama and action. A few weeks back, the first promo of the show was released, which gave us major Student of The Year vibes. And now, the second promo offers us a good insight into the performances of the lead four actors. Starring Siddharth Sharma as Ranbir, Priyank Sharma as Rahat, Khushi Joshi as Padmini and Harshita  Gaur as Divyanka, in the lead roles, PuncchBeat is one of the most awaited web series and has been in the news ever since its inception. Puncchbeat Trailer Review: Alt Balaji's New Show Has A Full-On SOTY Vibe, But The Performances Will Make You Want To Watch The Show February 14 Onwards!.
The second trailer of the web series gives us more insight into the characters of Rahat, Ranbir, Padmini and Divyanka. Well, we also sensed a love triangle between Ranbir, Rahat and Divyanka that leaves Padmini jealous and hurt.
Watch the trailer below:
Siddharth Sharma as Ranbir fits the bill of the arrogant, cool, sexy and confident rich kid to perfection and look impressive. Priyank Sharma as Rahat looks tailor-made for the role of street boxer Rahat, with the blessing of good looks. Khushi Joshi and Harshita Gaur ace their looks and parts very well. EXCLUSIVE: Vikas Gupta Unveils His Surprise; Lets Us In On Divya Agarwal's Cameo In PuncchBeat!
In our earlier review, we had highlighted how there is a strong sense of SOTY in the trailer. However, with this performance-driven second trailer, all our focus is on the performances of the four lead actors and we eagerly await the show to stream, to see this awesome foursome in action. How did you guys like the trailer of PuncchBeat?