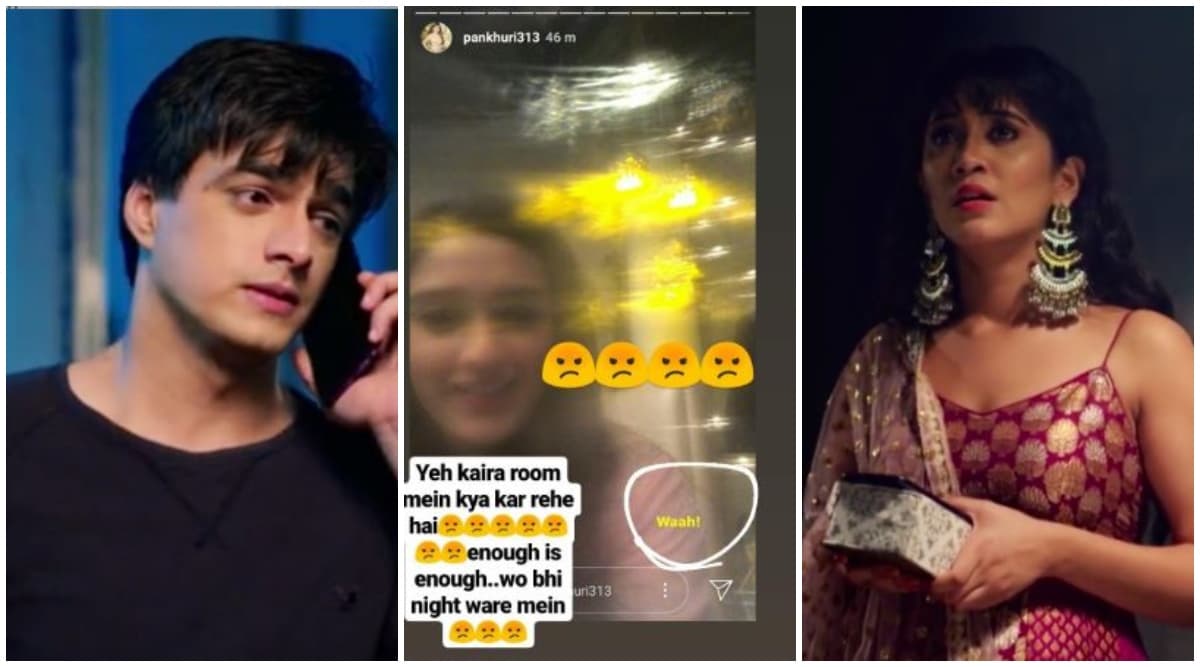 Social media is as brutal as is a blessing. And while many celebrities can vouch for the fact, Yeh Rishta Kya Kehlata Hai actress Pankhuri Awasthy is currently bearing the brunt of a simple social media post. The actress, who plays Vedika, Kartik's wife in television's longest-running daily soap, posted a picture of herself in a room that belongs to Kartik, her husband on the show. However, hardcore Kartik (Mohsin Khan) and Naira (Shivangi Joshi) supporters, who still believe that Kartik's room is Naira's and that the pair are end game (which they are), took to Twitter to lash out at Vedika and Pankhuri both. Yeh Rishta Kya Kehlata Hai New Promo: Kartik and Naira To Get Into A Custody Battle For Kairav! Vedika To Attempt Suicide? (Watch Video)
Yes, not understanding that Pankhuri is just playing Vedika and that the latter is just a fictional character, (most) fans naturally blurred the line between the actor and the character and started abusing Pankhuri too.
Take a Look At Some Of The Tweets Below:
The Post In Question:
People fans go fight tweet trend yrkkh n Raj sir n bv mam story shy bad RIP go trend now 🙏🙏🙏🙏🙏😡😡😡😡😡😡😡😡😡😡😡😡😡😡😡😡😡 pic.twitter.com/B3WnoducSy

— Girija (@Girija17632339) September 24, 2019
One For Vedika:
Can anyone be more selfish than vedika? NO✋ vedika as she want to spend night's with kartik weather he is interested or not.such a shameless women and character ever seen in the history of TV😌 #yrkkh

— swathiv (@swathisatya) September 25, 2019
Another 'Sanskaari' Jibe:
Sanskari Show Ka Sanskari Character🙄👿🤣🤣🤣 #vedika #Yrkkh https://t.co/lmJOZAc5Za

— Sneha2 (@KairaSneha2) September 25, 2019
It's Vedika Guys... Not Pankhuri:
@Panawasthy_31 is the cheapest celebrity of indain television 😑 #Yrkkh

— shivi_lovee❤ (@shivi_lovee) September 24, 2019
This One's For Vedika:
What the hell vedika doimg in Kairas room wearing nighty I swear if they show any cheap scene......!!! #yrkkh

— chotu tadpole! (@Kaira_slays) September 24, 2019
This One Targetted Pankhuri For Trying To Get KaIra Fans Jealous:
Pankhuri awasthy is such a cheap actress kaira room me gyi nd insta pr pic upload ki or waah likha kaira fans ko jalane ke liye #yrkkh

— Saman (@Saman44125317) September 24, 2019
Once again guys, with love... Vedika is just a character that actress Pankhuri Awasthy is playing. And while fans taking out their frustration and anger on Vedika is completely justified, dragging and tagging Pankhuri for doing a job that she has been assigned by the show makers, is just not done. Some tweets targeted Pankhuri and called her a cheap actress, which is crossing a line by definition. Trolling and making fun is a different thing, but shaming actors for playing certain characters is plain rude.  If only fans knew how to differentiate and draw a line... Yeh Rishta Kya Kehlata Hai September 23, 2019 Written Update Full Episode: Kairav Gets Upset With Naira, But Kartik Manages To Convince Him!
The upcoming track of Yeh Rishta Kya Kehlata Hai will soon see a full-blown custody battle between Kartik and Naira where the duo, who vowed to never hurt their son Kairav, will be seen dragging him to the court. And this high-intensity drama has only worked in the show's favour, for Yeh Rishta Kya Kehlata Hai has been topping charts for the past few weeks now.