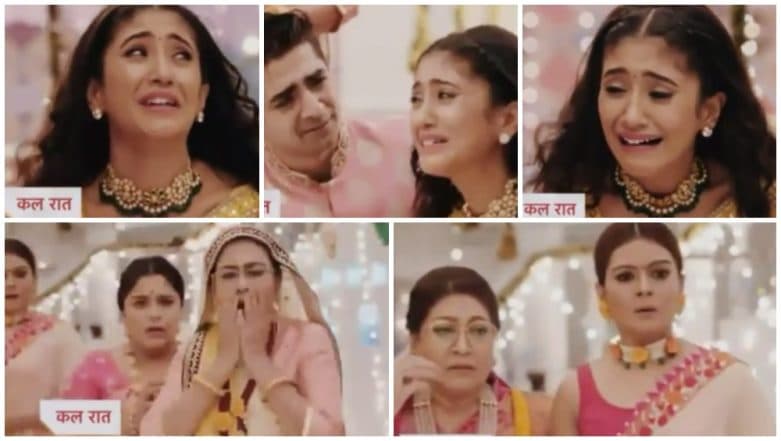 Today's episode of Yeh Rishta Kya Kehlata Hai starts with Naira (Shivangi Joshi) telling everyone that from the first day she knew that Kartik (Mohsin Khan) is the person whom God has made for her, Kartik sees Kirti and flashbacks what all she said to him. Naira dances with Kartik (Mere Saiyyaan superstar track is played in the background), all the family come and enjoy the dance with them. Kartik notices that only Kirti is not dancing and is tensed, just then Naira gets a call and she goes to the side to receive it. Suddenly Naksh sees that the electric box beside Naira is going to burst and the lights go off, Kartik also sees it and runs towards it, Naksh brings Naira safely out and Kartik brings Kirti safety. Kirti sees Kartik, as what she told to him is true as Naksh only cares for Naira. Krish starts crying, Naira tries to make him silent. Kirti is upset and Kartik sees it. Yeh Rishta Kya Kehlata Hai March 20, 2019 Written Update Full Episode: Naksh Agrees to Give His Baby to Naira, While Kirti Refuses
Suhasini and all say that now they have to go and tomorrow they will come to take her to their house.  Naira asks Kartik why their relationship is so different as she does all the things that men generally do, like she loved him, proposed to him first, she asked him for a dance and that now is the time he should also play his role. Naira says that she has come to see him off and he is not even getting romantic and saying anything. Kartik just says bye (Yeh Rishta Kya Kehlata hai track is played in the background) The garland falls above them and Naira becomes happy, but Kartik still thinks about what Kirti said. Kartik says that she should remember one thing in her mind, that whatever happens Kartik loves Naira and goes from there. Naira is excited as only one day is left for her wedding. Yeh Rishta Kya Kehlata Hai Holi Celebrations; This Key Character To Return To The Show! View Pictures
Manish asks Kartik what is the matter and if everything is fine and asks if  Naksh said something. Kartik asks Manish if he is a good brother as Kirti has gone through so many problems and he could not help her. He also says that Kirti never told him anything, about her life and about her problems. Kartik says that Naksh cares for his sister so much but he does not care for Kirti and he (Kartik) is always busy in his life and his problems. Manish asks what happen and did Kirti say something, Kartik says nothing, he was just thinking about Kirti. Manish says that he is a good son, a good brother and overall a good person and tells him to not to take tension and everything will be fine.
There Naira is talking to Krish as she is very happy and she is going to get married. Just then Kirti comes and takes Krish as it is his sleeping time. Naira asks Kirti did something happened between her and Kartik regarding her as she felt he is very tensed and that after going from here he did not even call her. Kirti says that might be he is very busy and goes from there. There Kartik is not able to sleep as he is thinking about Kirti and her problems.
Next day morning all are busy in preparing for the wedding, Naira comes down happy and tells everyone that she is so excited as today is her marriage. Devyani tells Kirti to bring the haldi from her house for Naira and she leaves. There Suhasini and all are also busy and excited, but they think where is Kartik, just then Kirti comes to take the haldi. All are happy to see her, Luv and Kush come and ask where is Kartik, they assume he must have gone to take some gift for Naira as he is also very excited. Kirti thinks where has Kartik gone and if he left she told him about her problems.
In the precap, Naira is angry and removing all the decoration as Kartik refuses for the marriage.