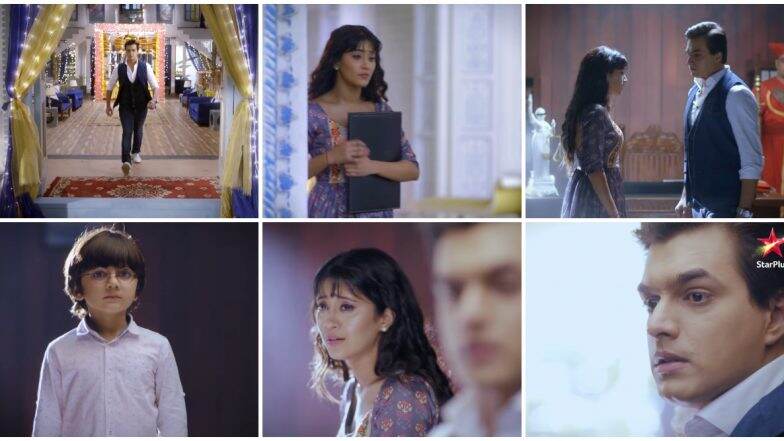 Star Plus' Yeh Rishta Kya Kehlata Hai will soon see a full-blown custody battle between Kartik (Mohsin Khan) and Naira (Shivangi Joshi) and the reasons for that will be Kartik, Naira and Vedika (Pankhuri Awasthy) themselves. Firstly Naira, who has kept Kartik away from his son for 5 years, Kartik who wants to make up for the lost time with his son and Vedika for trying to force Kartik and Naira apart and not telling Kartik that she has been asking Naira to leave the house. The makers released a new promo for the show's upcoming track that will see Kartik and Naira drag their son to court over a custody battle. Yeh Rishta Kya Kehlata Hai September 23, 2019 Preview: Vedika Confronts Kartik Over Naira's Interference In Their Marriage!
Watch The Promo Below:
In the past few episodes, we already saw Vedika unleash her fury on Naira and ask her to leave the house as she had promised. However, when Naira does what Vedika asked her to do, Kartik gets furious and tells her that his son won't go anywhere with her and asks her to leave the house if she wants.
In the upcoming episodes of the show, we'll see Vedika tell Kartik that while she has accepted each and every relation of his, including Kairav, but says that she can not accept his ex-wife Naira. She even says that her and Kartik's marriage can not work and will not work until Naira is physically present in their lives and in the Goenka house. Yeh Rishta Kya Kehlata Hai September 20, 2019 Written Update Full Episode: Naira Decides to Leave The Goenka House With Kairav After Vedika Humiliates Her!
It is also being reported that after her fight with Kartik, a teary-eyed Vedika will step out of the Goenka villa and decide to end her life. However, Naira saves her in the nick of time and from thereon will begin Kartik and Naira's custody battle for Kairav. Now, time will only tell which way will the storyline of the show go.