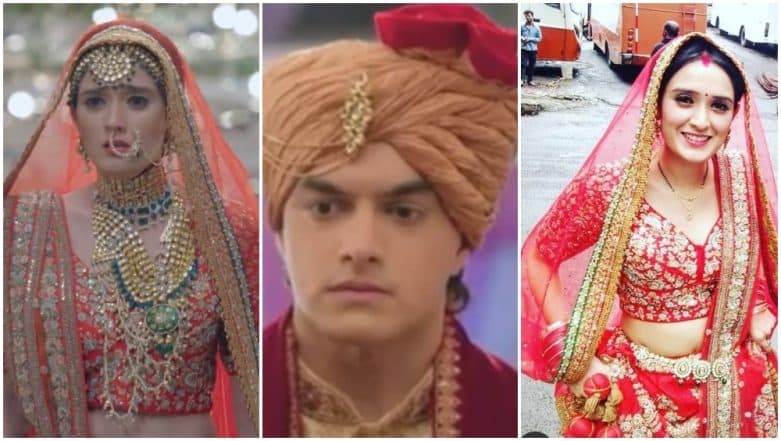 This week, television news is abuzz with Yeh Rishta Kya Kehlata Hai, first for garnering some record-breaking TRPs this week and now, for the union of Kartik and Naira after the show took a 5-year leap a few months back. In the next week episodes of the show, Suwarna will allow Kartik to go and visit an ailing and critical Kairav in the hospital. However, on reaching there, Lisa will inform Kartik that Kairav's mother is trapped in a room full of liquid nitrogen gas and Kartik will be seen rescuing Naira from a locked room and will finally see her alive in flesh and blood. Yeh Rishta Kya Kehlata Hai: Kartik Rescues Naira, Should He Forgive Her Or Not? Vote Now
However, in what serves as a major spoiler, it looks like Kartik will ultimately leave Naira and choose Vedika. And we say so as a picture of actress Pankhuri Awasthy who plays Vedika in the show, has gone viral where the lady is seen sporting sindoor and a mangalsutra, while still dressed in her wedding lehenga.
Check Out The Photo Below:
A few fans have alleged that the lehenga that Pankhuri is wearing in the picture is not the same one as her wedding lehenga, but on closer inspection, we can conclude that it is indeed the same lehenga and that in the photo, Pankhuri has taken off all the heavy jewellery she sported for the sequence. Yeh Rishta Kya Kehlata Hai Spoilers: Vedika Washes Off Her Mehendi; Refuses To Marry Kartik!
A few weeks back, when makers had introduced Kartik and Vedika's wedding track, angry loyal fans of the show had taken to social media to bash the makers for separating Kartik and Naira. The fans not only trended the hashtag 'WeWantKairaOnly' but also demanded that show makers give them a Kartik and Naira face off immediately. Yeh Rishta Kya Kehlata Hai: Fans Unhappy With The Current Track, Trend #WeWantKairaOnly And Demand Kartik-Naira Face Off!
Well, do you think this is a dream sequence or does Kartik indeed head home after rescuing Naira and marry Vedika in anger and to keep his promise to Vedika's father and Dadi? Do let us know your thoughts below.