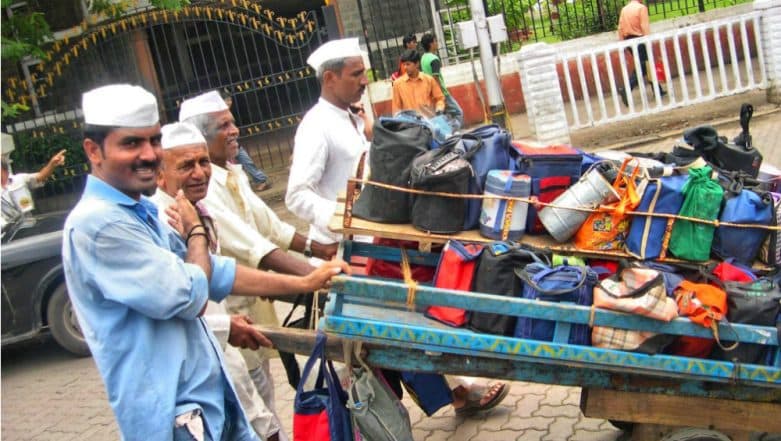 Mumbai, May 17: Mumbai's famous Dabbawalas, known for their timely delivery of tiffin boxes to offices in the city, will soon be delivering couriers and parcels also. The Mumbai's dabbawalas are an association of 5000 plus members and by an estimate deliver around two lakh tiffin boxes in Mumbai every day.
The spokesperson of Mumbai Dabbawala Association, Subhash Talekar said that the Dabbawala association is only remaining to take the final call on the project of delivering parcels and couriers in Mumbai.
Talekar told news agency PTI that the main objective behind the move to deliver parcels and couriers is to increase the income of members of the association. He added that the Dabbawalas can deliver parcels in their free time and earn more. He is also confident of the dabbawalas delivering parcels faster as compared to private agencies as they know the city better than most.
He has said that the deal is in its final stage and it won't take more than 15 days to finalise it. Some issues need to be discussed with members in order to give the final nod to the deal, he confirmed.
An area that needs to be addressed, he added, is that whether the dabbawalas will deliver the parcels before or after the tiffin deliveries. He insisted that their core business is delivering dabbas and it will remain so.  They are also negotiating the rates for parcel deliveries.
The plan has also been implemented on trial basis and the members are being currently trained. The association is also developing an app for the purpose of tracing and tracking parcel orders.
As of now, the dabbawalas rely on a network of train, bicycles and footsoldiers to deliver dabbas or tiffin boxes.
In an exhibition organised by the industry body CII, and speaking at the Global Exhibition on Services, Subhash Talekar confirmed that the association will be celebrating Prince Harry and Meghan Markle's wedding in a special way by sending a gift to London as Prince Charles (Prince of Wales) had met the dabbawalas when he was in Mumbai two years back and had also called the dabbawalas as friends.