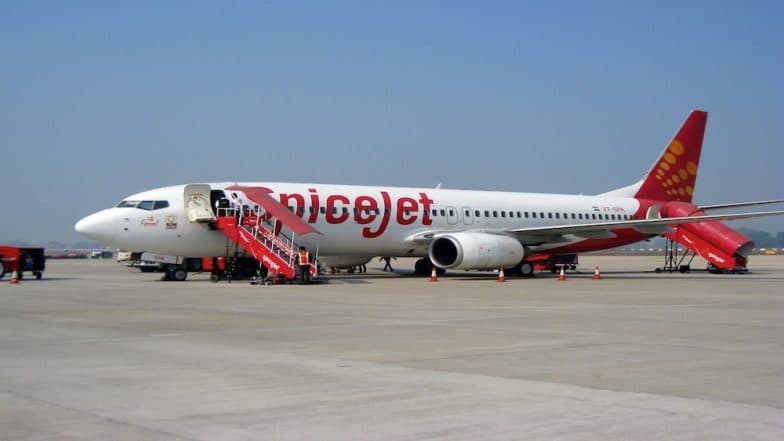 Mumbai/New Delhi August 22: In a grave security breach, a man scaled a wall of the Mumbai airport on Thursday and walked up to a SpiceJet plane on the runway that was readying for take off, a senior official of the aviation regulator DGCA said. He was picked up by CISF personnel, a Mumbai airport official said.
However, a senior Mumbai Police official claimed the person with "unsound mind" was apprehended after he "tried crossing over" the airport fence wall. SpiceJet Plane Stranded on Mumbai Airport Runway Finally Pulled Out.
The police official gave his name as Kamran Shaikh. "The pilots of the SpiceJet plane showed presence of mind and immediately shut down the engines to avert any accident when they saw the man walking up the plane that was standing on runway 27," said the DGCA official in New Delhi.
Watch Video: Man Approaching SpiceJet Plane at Mumbai Airport Runway.
Here is the video of a man approaching SpiceJet plane at Mumbai Airport runway 27 today out of nowhere. Major breach. Unbelievable. @DGCAIndia @MoCA_GoI @CSIAMumbai. pic.twitter.com/AXPDaKHopn

— Tarun Shukla (@shukla_tarun) August 22, 2019
At the time of the incident, the SpiceJet plane SG634 was readying to take off for Bengaluru. "SpiceJet aircraft SG634 (operating on Mumbai- Bengaluru route) was holding on taxiway N1 reported the presence of a man on runway 27. He was picked up from the runway by CISF," said a Mumbai airport spokesperson.
But the police official said the person tried to cross over the airport fence/wall and was immediately taken into custody by the CISF. "As per the initial investigation, the person is of unsound mind and it was his dream to see an aircraft from close vicinity. Nothing suspicious (was found) in the incident," said the police official. Another police official said the person had all the "documents" to show he was "mentally unsound". "No action has been taken against him. His family members are coming to take him home," the second police official added. SpiceJet Plane Overshoots Runway at Shirdi Airport, Close Shave For Passengers.
Tarun Shukla Tweeted:
Another angle..doesnt look mentally stable. Though one shouldn't pass judgement. Assume someone investigating the breach. pic.twitter.com/bqKZbuYoUv

— Tarun Shukla (@shukla_tarun) August 22, 2019
The DGCA official said at around 1.30 pm, the 26-year- old man from Sion jumped the wall from south side of runway 27 and crossed the perimeter intrusion identification system. "The man seemed to be of unsound mind," the DGCA official added. The Directorate General of Civil Aviation (DGCA) will further probe the incident, he said. The CISF has also ordered an inquiry into it, officials said. The Mumbai airport undertakes weekly maintenance activities at runways twice a week - on Mondays and Thursdays. Accordingly, operations are shifted to the alternative runway, the Mumbai airport official said.
(This is an unedited and auto-generated story from Syndicated News feed, LatestLY Staff may not have modified or edited the content body)