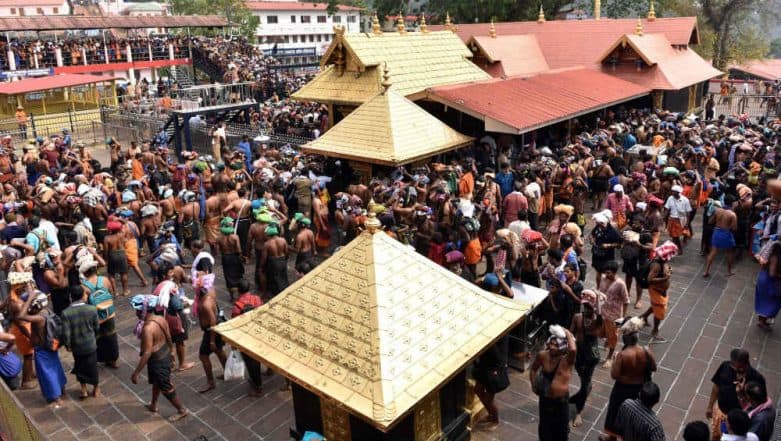 New Delhi, January 18: The Kerala government on Friday told Supreme Court that 51 women in the age group of 10 to 50 years have entered the Sabarimala Temple since the age bar for female devotees was removed last year. This came during the court hearing on a plea seeking security for the two women who entered the Lord Ayyappa shrine on January 2 this year. The apex court ordered the Pinarayi Vijayan government in Kerala to provide adequate protection to the two women petitioners who entered the temple. Sabarimala Temple Row: Protest Erupts in Kerala After Two Women Attempt to Enter Holy Shrine of Lord Ayyappa.
The Kerala government said that the two women - Kanakadurga and Bindu - were being given protection. However, the point that 51 women had entered the sanctum sanctorum of Sabarimala Temple since the Supreme Court verdict on age bar was contested by the review petitioners, who called it a lie. The Kerala government has now submitted a list of 51 women in the age group of 10 to 50 years who entered the Sabarimala Temple.
The hearing on security came days after Kanakadurga alleged that she was attacked by her mother in law after returning home. Kanakadurga had undergone treatment at a hospital after sustaining a head injury reportedly and had also filed a complaint against her mother in law.
Bindu and Kanakadurga, both in their 40s, had visited Sabarimala temple on the morning of January 2 post 3:30 am and left immediately after praying before the Ayyappa diety.
Meanwhile, last week Prime Minister Narendra Modi had flayed the Left government in Kerala while addressing a  BJP rally on Tuesday in Kollam. Launching a blistering attack on the Pinarayi Vijayan-led state government, Modi had said their stand on the sensitive issue of Sabarimala has been "shameful".