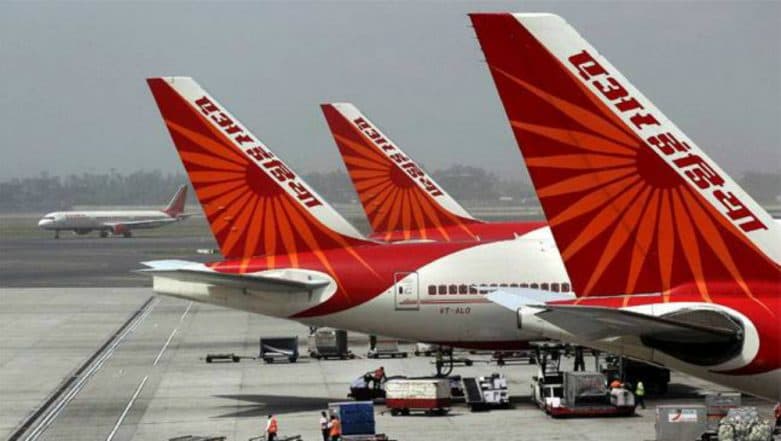 New Delhi, January 9: In a bid to cut cost, lost making national carrier Air India on Wednesday said that the airline has started to carry food from India to return back journey, in an attempt to cut catering cost on international flights. This news was confirmed by Air India's Chairman and Managing Director Pradeep Singh Kharola, who said that airline has started using stocked from on its onward journey from Copenhagen, Stockholm, Madrid and Birmingham. Air India Passenger Strips Mid-Air on Flight Returning From Dubai, Deboarded in Lucknow; Watch Video.
"The food is taken from here in India in chillers and then it is heated whenever it has to be used... Catering costs for us are around Rs 600 crore to Rs 800 crore a year. Catering in India is 3-4 times cheaper as compared to catering in the West," Kharola said.
Kharola further added that in next few months Air India will also start serving food in return flights from Gulf and some European countries. Air India Pilots Reject Airline's Decision to Revise Salary Structure, Fear 25% Pay Cut.
"There are some flights like the ones going to Gulf, Singapore and even some parts of Europe, where it is possible to upload the food here (in India) only. Some work is going on in that direction," he said.
"The more important thing is the taste. Whatever you can do, the European caterer's taste can't match with the Indian caterer, especially when it comes to Indian food. That is the additional benefit we get. The main thing is that the costs come down drastically," he added.
Earlier, as a cost-cutting measure, AI decided to stop serving non-vegetarian food to economy class passengers in its domestic flights.
Meanwhile, the loss-making airline had defaulted December month salaries from the second consecutive time amid a cash crunch. The airline failed to pay salaries of nearly 20,000 employees on time for most of the period in last year "Air India has not paid the December salary to its entire staff till today (Jan 7). Worst, there is no word on the date of payment," an airline official said.