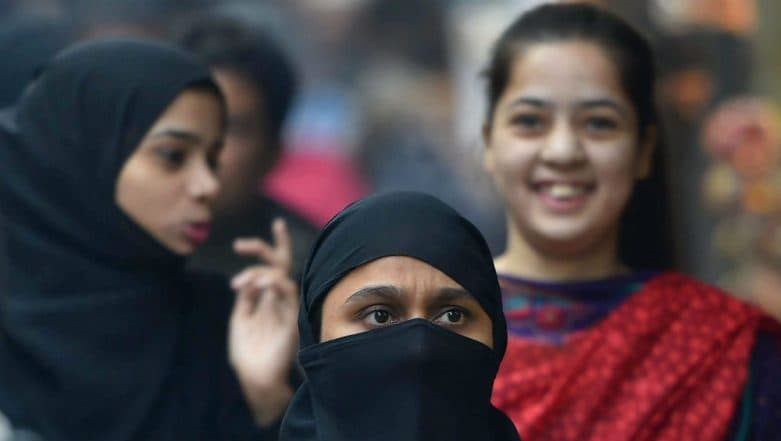 New Delhi, April 16: The Supreme Court on Tuesday will consider a petition seeking permission for Muslim women to enter all mosques. The petition is moved by Pune-based Yasmeen Zuber Ahmad Peerzade and her husband Zuber Ahmad Nazir Ahmad Peerzade who contended that the ban on entry of Muslim women in mosques violates their constitutional rights and cited the apex court's judgement over the issue of women's entry to Sabarimala temple.
The petition said, "There is nothing in the Quran and the Hadith that requires gender segregation...The act of prohibition of females from entering Mosque is void and unconstitutional as such practices are not only repugnant to the basic dignity of a woman as an individual but also violative of the fundamental rights guaranteed under Articles 14, 15, 21 and 25 of the Constitution." The Pune-based couple said several Muslim women are affected by the ban on their entrance to mosques. Lok Sabha Elections 2019: Muslim Women Come Out With Manifesto for Political Parties, Demand Law Against Mob Lynching.
The petition said, "The alleged act of prohibition of entry to mosque is violation of constitutional and fundamental right guaranteed under the Constitution as there cannot be any discrimination based on caste, sex and religion". The couple argued that there is no consensus among Islamic scholar over segregation of men and women in mosques and said there is no gender discrimination in Mecca, one of the holiest Islamic place. 'Congress Stands For Muslim Men, But Do They Care For Muslim Women as Well?' PM Modi Takes Jibe at Rahul Gandhi.
"There are diverging opinions among experts in Islamic theology concerning gender segregation. On one side of the spectrum, an Islamic theologian in Canada, Ahmad Kutty, has said segregation of the sexes is not a requirement in Islam, as men and women interacted in Muhammad's time without any partitions. On the other side of the spectrum, an Islamic theologian in Saudi Arabia, Abdul-Rahman al-Barrak, has issued a death warrant in the form of a fatwa against those who allow the mixing of the sexes. The Prophet Muhammad specifically admonished the men not to keep their wives from going to the mosques…," the petition said.
"At present, women are allowed to offer prayers at mosques under Jamaat-e-Islami and Mujahid denominations, while they are barred from mosques under the predominant Sunni faction. It is submitted that even in the mosques where women are allowed, there are separate entrances and enclosures for worship for men and women…It is submitted that there is no such gender discrimination to offer worship in Mecca, the holy city. The faithful, both men and women, together circle the Kaaba," the plea said.
On September 28, 2018, a five-judge Constitution Bench, headed by the then Chief Justice of India Dipak Misra, in a 4:1 verdict had paved the way for the entry of women of all ages into Sabarimala temple, saying the ban amounted to gender discrimination.