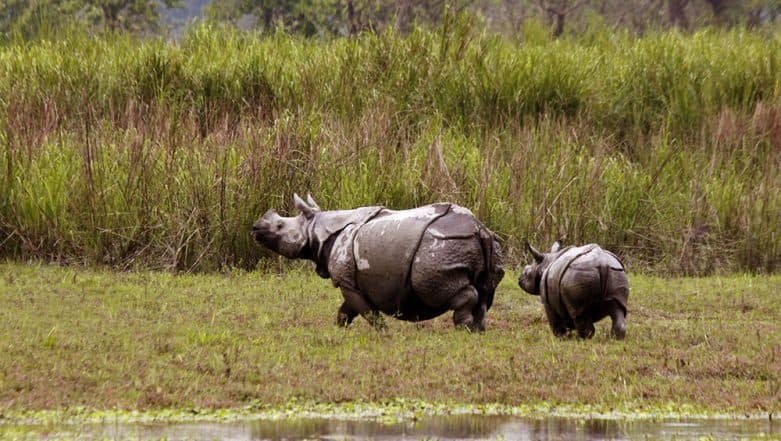 Guwahati, July 14: More than 70 per cent of the famous Kaziranga National Park in Assam has been submerged in floodwaters following incessant rains in the state since the past few days. The heavy downpour has submerged about 95 camps of the Kaziranga National Park and animals residing in the national park have been taken to the highlands. In the wake of the current situation, forest officers were asked to remain on duty and their leaves cancelled. The Kaziranga National Park in Assam is home to the world's largest population of Indian one-horned rhinoceroses. Assam Floods: Situation Becomes Grim in 17 Districts; 6 People Lose Lives, 4 Lakh Displaced.
Leaves of Forests Staff Cancelled
After the flood waters entering most of the state's national parks and wildlife sanctuaries, Assam Environment and Forest Minister Parimal Shuklabaidya on Saturday appealed to all the staff of the department to cancel the leaves and resume duty at the earliest. Moreover, the state Health Department had recently cancelled the leaves of all the doctors, paramedics and other health department workers due to the outbreak of Japanese Encephalitis, which had claimed 64 lives in the state since January this year.
According to reports, the forest department is fully alert on the National Highway (NH) 37 in order to avoid any poaching chances by hunters. This highway starts from Sutarakandi near Karimganj in Assam and terminates at Bhali in Manipur.
Security for Animals Heightened
Timecards are being provided to vehicles coming from both sides of the Kaziranga National Park to provide utmost security to animals from being hunted. Forest guards have also been put on duty at night.
People Evacuated to Safer Places
After rains wrecked havoc in the state, troops of Indian Army along with SDRF and Civil Administration conducted rescue operations and evacuated around 150 villagers who were stranded in Balipur Char of Baksa district in the state. The villagers were shifted to flood relief shelters temporarily constructed in Odalguri village. Those rescued include 55 women, 40 men, 25 senior citizens and 30 children.
Kaziranga National Park in Assam
Kaziranga National Park, a national park in the Golaghat and Nagaon districts of Assam, hosts two-third of the world's great one-horned rhinoceroses, is a World Heritage Site. The park is a vast expanse of tall elephant grass, marshland, and dense tropical moist broadleaf forests, criss-crossed by four major rivers, including the Brahmaputra, and the park includes numerous small bodies of water.
According to the census held in March 2018, jointly conducted by the Forest Department of the Government of Assam and some recognized wildlife NGOs, the rhino population in Kaziranga National Park was 2,413. Reports inform that the park has 1,641 adult rhinos (642 males, 793 females, 206 unsexed); 387 sub-adults (116 males, 149 females, 122 unsexed); and 385 calves.