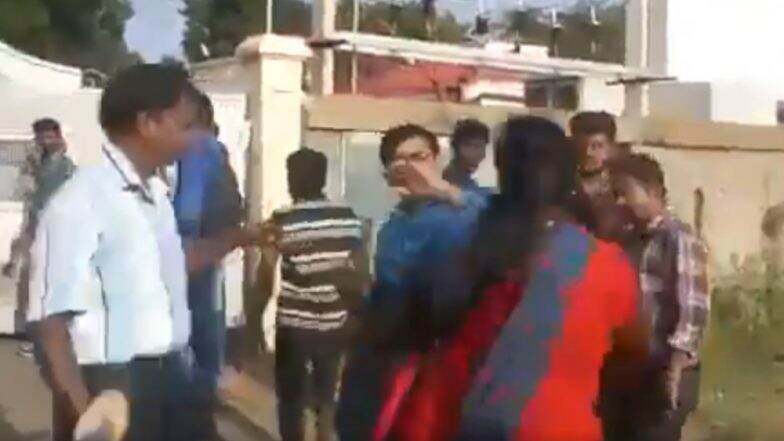 Chennai, September 11: A twice-married man who was attempting to tie the knot for the third time was thrashed by his two wives and their relatives at Rasipalayam. The video of the same incident has gone viral on social media. According to a Times of India report, the accused first got married to Priyadarshini in 2016 and used to harass her. Husbands Get Beaten By Wives Every 2nd Day in Bhopal! While This City in Madhya Pradesh Ranks on Top in Domestic Abuse Against Men
Unable to bear the torture, she left him. Then Dinesh married Anupriya in 2019, who was a divorcee with a child. Very soon, he started harassing her too and demanded dowry. She too left him and went to her parent's place.
Watch Video:
Coimbatore - Man gets brutally beaten for searching a new bride by his 2 wives whom he hasn't divorced yet!!

After whacking him, the women hand him over to the cops.. pic.twitter.com/H7Tis4cEPQ

— Pramod Madhav (@madhavpramod1) September 11, 2019
Dinesh was on the lookout for his third wife on a matrimonial website. However, luck was not on his side this time as both his earlier wives came to know about it and decided to teach him a lesson. They reached his office and staged a protest outside the premises. The moment they saw Dinesh, they threw their sandals at him and brutally thrashed him and handed over to the Police.
In India, one rarely gets to hear about instances of violence directed towards the husband. Men's rights activists say that domestic violence against men has increased in recent years in India. But we don't get to hear about it because most cases are hushed up.  In a recent study, it was found that Bhopal in MP ranked second in cases of abuse and harassment against the husbands.
The first is the city of Indore. From January to April, there have 52 instances of harassment of husbands in Bhopal. The issue came to light after the Dial 100 team made a separate category for Beating Husband. It was created to separate such instances from the domestic violence category.
Going by the information generated, it would not be wrong to say that men were becoming victims of domestic abuse every second day in Bhopal.  The data produced is only from the state of Madhya Pradesh. The cases of assault against men by their wives are on the rise across the country.
Although Dinesh's case is different, since he was assaulted by his wives because he was allegedly cheating them, physically harassing them and attempting to marry for the third time without divorcing them, cases of men becoming victims of violence at the hands of their wives are increasing.