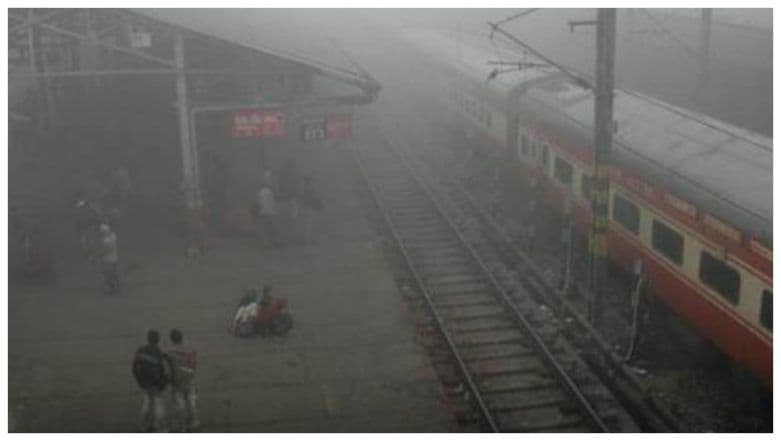 New Delhi, January 21: Dense fog continued to envelop several parts of the national capital, leading to disruption in train services and flight operations. Several flights at the Indira Gandhi International Airport (IGI) were delayed will nearly 11 trains were reported to be running late due to foggy weather conditions/low visibility conditions. The MeT department has predicted a cloudy sky with light rain or thunderstorms in the evening or at night for Monday.  There is also the possibility of isolated incidents of hailstorms, a MeT official said and added that gusty winds are likely to prevail. Delhi Under Dense Fog: 10 Trains Delayed as Fog Engulfs National Capital.
On Sunday, residents of Delhi woke up to a cold and foggy morning with the minimum temperature settling at 7 degrees Celsius. Officials informed that a cover of moderate fog enveloped the city on Sunday, with visibility dropping to 400 metres at Safdarjung, at 8.30 am. In the wake of the cold weather conditions, the government opened many night shelters for the homeless. The shelters are filling to capacity each night in Delhi-NCR. Fog Leads to Accident in Jhajjar; 50 Vehicles Crash Into Each Other on Rohtak-Rewari Highway in Haryana, 8 Dead - Watch Video.
Saturday, January 20, was the warmest day in January this year at 25.9 degrees Celsius, seven notches above the season's average. Reports inform that the relative humidity at 8.30 in the morning was 97 per cent. According to a report by PTI, A railways official informed that 10 northbound trains, including Unchahar Express, Brahmputra Mail, Kaifiyat Express, Bhagalpur-Anand Vihar Garib Rath, were running late due to fog, with an average delay of 203 hours.