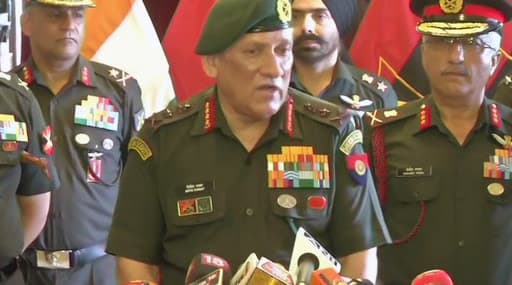 Chennai, September 23: Indian Army Chief General Bipin Rawat on Monday dismissed reports of blanket communication blockade in Kashmir. He said that the move to suspended telephone services in Kashmir is to breakdown communication between terrorists and their handlers. The Chief of Army Staff (COAS) stated, "There is a communication breakdown between terrorists in the Kashmir Valley and their handlers in Pakistan but there is no communication breakdown between people to people." Indian Army Chief Bipin Rawat Says Ready for Action to Retrieve PoK From Pakistan.
He also gave a stern warning to Pakistan and asked the neighbouring country to stop supporting terrorists against India. Speaking to reporters in Chennai, Gen Rawat said that Pakistan violates ceasefire to push terrorists into our territory. Gen Rawat stated, "We know how to deal with ceasefire violations. Our troops know how to position themselves and take action. We are alert and will ensure that maximum infiltration bids are foiled." He also said that Jaish-e-Mohammed (JeM) terror camps in Balakot have been re-activated months after the airstrikes conducted by the Indian Air Force (IAF) in February this year.
Gen Rawat stated that the Indian Army is ready for military action in Pakistan Occupied Kashmir (PoK). "The Army's 15 Corps performs war games and it is not only on defending land. Some of them would involve going across. Even 14 Corps does such war games. So, there are plans," reported The Economic Times as quiting the Indian Army Chief saying. The 15 corps is based in Srinagar and is involded in counter-terrorist operations in the Valley. India-Pakistan Bilateral Talks Not Possible, Need Third Party Reconciliation, Says Pak FM Shah Mehmood Qureshi.
Earlier this month also, The COAS said that if the government wants, the Army is prepared for an operation to retrieve PoK from Pakistan. Gen Rawat was replying to a media query on Union Minister Jitendra Singh's statement who said that the next agenda of the government is retrieving PoK and making it a part of India.
In August this year, the Narendra Modi government diluted Article 370 A to scrap the special status of Jammu and Kashmir. The state was also divided into two union territories – Jammu & Kashmir and Leh. After the Centre's move, tensions between India and Pakistan escalated. Pakistan has downgraded bilateral relations with India.