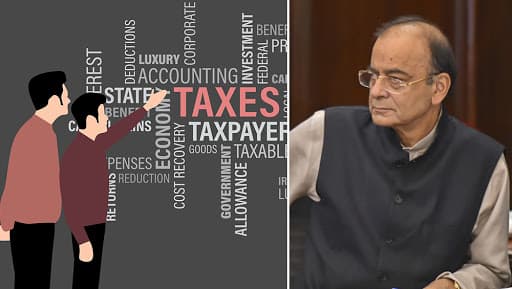 New Delhi, July 1: With the completion of two years of Goods and Services Tax (GST) regime and its entry in the third year, former Union Finance Minister Arun Jaitley to Monday took to Facebook and penned down an emotional blog comparing the pre and post era of GST in the country. Jaitley, while comparing the challenges, claimed that today 'there is only one tax, online returns, no entry tax, no truck queues and no inter-state barriers'.
Making his special comments on the third anniversary of GST, Jaitley reminded that previously the Union government used to persuade the States for 14% annual increase from the tax base of 2015-16 for a period of five years. Following the GST 17 different laws were merged and one single taxation process came into existence. GST Day 2019: Recalling Then FM Arun Jaitley's Speech Highlighting The Gains of Goods & Services Tax
He said, "The pre-GST rate of taxation as a standard rate for VAT was 14.5%, excise at 12.5% and added with the CST and the cascading effect of tax on tax, the tax payable by the consumer was 31%. The entertainment tax was being levied by the States from 35% to 110%." Stating the challenges of the GST, the former Union Minister said, "The assessee had to file multiple returns, entertain multiple inspectors and additionally face the inefficiency - trucks being stranded at the State boundaries for days altogether."
Here's The Blog:
He was of the opinion that the with the implementation of the GST in India, now 'there is only one tax, online returns, no entry tax, no truck queues and no inter-state barriers.' Jaitley even stated that GST eased consumers and made their life simple and assessee friendly. Jaitley claimed that percentage of taxes were fixed on products were brought down, as for example the cinema tickets, earlier taxed at 35% to 110%, have been brought down to 12% and 18%.
Among other things, the former Union Finance Minister took a jibe at then the political controversy over the implementation of GST and the failure of opposition parties. Jaitley made it's clear through his blog the GST Council's role and how the Centre and the States jointly sit and decide on the policies of taxation on commodities. he hopes that the trend would continue with the current Union Finance Minister Nirmala Sitharaman, where GST Council work on the principle of consensus.