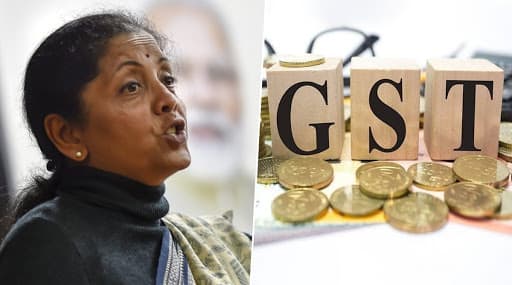 Panaji, September 20: Union Finance Minister Nirmala Sitharaman on Friday announced a slew of measures to control the economic crisis prevailing in the country. The minister in her address after the Goods and Services Tax Council meeting announced that Compensation cess on diesel vehicles with 10-13 person capacity reduced to 3 percent, while for petrol vehicles the cess was slashed to 1 percent. GST Council Approves Proposal to Hike Rates on Caffeinated Drinks; Soft Drinks, Energy Drinks And All Other Drinks Set to Become Expensive.
Among other things, the Finance Minister announced that there would be a uniform GST of 12 percent for woven and non-woven polyethylene bags. She stated that GST rates on slide fasteners had been reduced from 18 percent to 12, while for Marine fuel for Indian Navy the rates have been slashed from 18 to 5 percent. Sitharaman said that the GST Council has decided to decrease the GST rate for Wet grinders -- consisting of stone as a grinder -- from 12 to 5 percent. Even dried tamarind's GST has been cut from 5 percent to nil.
Addressing a press conference in New Delhi -- post-GST Council Meeting -- the Finance Minister informed that the GST rate for hotel rooms had been slashed. Under the new announcement, a customer won't have to pay GST for hotel rooms priced below Rs 1,000. While for the room being charged above Rs 1,000 to Rs 7,499 will be charged 12 percent GST. For hotel rooms above Rs 7,500, 18 percent GST would be charged. GST Council Cuts Tax on Hotel Tariffs, Rate on Bill of Rs 7,500 and Above Reduced to 18% From 28%.
Making other announcements, Sitharaman stated that aerated drinks manufacturers had been excluded from the compensation scheme. She also noted that Platinum imported for re-export as jewellery has been exempted from GST. Moreover, defence goods not being manufactured indigenously has been exempted from GST/IGST, and GST rate on railway coaches and wagons raised have been raised to 12 percent from 5 percent.
Here's a tweet on what became costlier/cheaper:
Caffeinated beverages now taxed at 40% while bidis drop to 18% from 28

Only one of these 2 addictions causes cancers in those not consuming it

Companies making only one of the two funds ministers running the govt.

Which one's hit hard, is for all to see

Joke govt.#GSTCouncil pic.twitter.com/ZgEnO2XGmH

— Parth Verma (@ThatGuyParth) September 20, 2019
Considering the automobile sector reeling under the economic crisis, the minister informed that the GST rates for automobile spare parts or motor vehicles had been slashed to 12 percent from the existing 28 percent. There are other items for which she announced GST exemptions too like fish meal and others. Corporate Tax in India Now Second Lowest in Asia After Nirmala Sitharaman Announces Rate Cut; Here's Where it Stands in The World.
Earlier in the day, the Union Finance Minister announced a cute in corporate tax rate cut from 30 percent to 22 for domestic companies. Following this announcement, India is now among the countries that have a low corporate tax rate globally, while it is the third country after Thailand to have a CTR less than 25 percent.