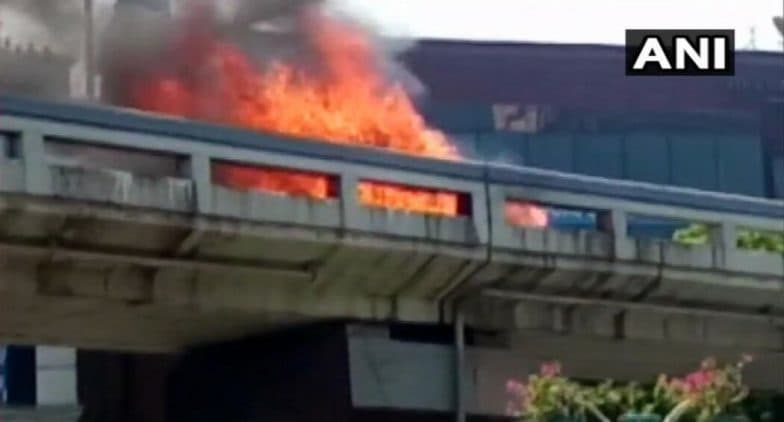 Surat, May 13: A car caught fire in Gujarat's Surat on Monday, the incident took place on Sardar bridge, which is one of the busiest routes in the city. No casualties have been reported so far. To douse the blaze, fire fighting operations are underway. The cause of the fire is not yet known. Mumbai: 6 Luxury Cars, Including Porsche & Mercedes, Gutted in Fire Near Mahalakshmi Railway Station.
The visuals from the incident spot were shared by news agency ANI. In the pictures, a dark cloud of black smog can be seen coming from a white car in the bridge. Meanwhile, the traffic operations have been put on halt, temporarily, to extinguish the fire. Fire in Moving Car Near Chakala Metro Station in Andheri.
Tweet by ANI:
Gujarat: A fire broke out in a car on Sardar Bridge in Surat. No casualties reported. More details awaited. pic.twitter.com/PnxaorY7Iu

— ANI (@ANI) May 13, 2019
The Sardar Bridge, which was built in 1992, has a capacity of over 24,000 passengers car units on one side during peak hours. Earlier, last month, a portion of the bridge, which connects Athwa area with Adajan on the other side, was closed for repairs.