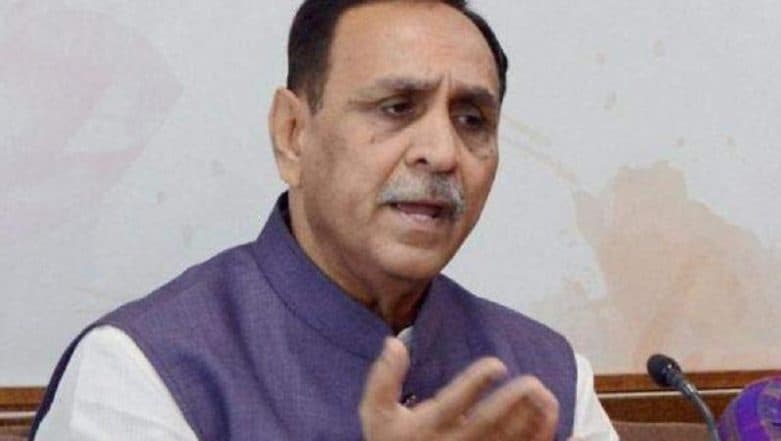 Ahmedabad, September 10: With the implementation of the new Motor Vehicles Amendment Act 2019, there are massive fines for traffic violations. Gujarat government, however, announced a reduction in fines under the Motor Vehicle Act 2019. Under new traffic fine structure, a penalty of 500 will be imposed for not wearing a helmet, which is Rs 1000 under the MV Act. Motor Vehicle Amendment Act 2019: Vadodara Man Pastes All Documents Related to His Royal Enfield on Helmet to Avoid Fine, View Pics.
"As per new traffic rules there is a fine of Rs 1000 for not wearing a helmet, but in Gujarat, it has been reduced to Rs 500. New fine for not wearing a seat belt is Rs 1000 as per the new rule, but in Gujarat it's Rs 500," Gujarat Chief Minister Vijay Rupani said. Motor Vehicle Amendment Act 2019 Dress Code Penalty: Uttar Pradesh Truck Drivers Wearing 'Lungi-Banyan' Can Face Rs 2,000 Fine.
Tweet by ANI:
Gujarat Chief Minister Vijay Rupani: Driving a vehicle dangerously attracts a fine of ₹5000 as per new rules, however, in Gujarat it will be ₹1500 for three-wheelers, ₹3000 for Light Motor Vehicles (LMVs) and ₹5000 for others. https://t.co/IEPzlq6DJi

— ANI (@ANI) September 10, 2019
Driving a two-wheeler without a licence will attract a penalty of Rs 2000 and Rs 3000 for the cars and other vehicles. For Triple riding, the penalty will be just Rs 100, as against Rs 1000 under the new rule. If DL, PUC, Insurance, RC book is not there then Rs 500 will be fined for the first time and Rs 1,000 for the second time.
After the imposition of Motor Vehicles (Amendment) Act, 2019, from September 1, heavy challan for traffic violations has been hitting the headlines. Recently, a Delhi resident was fined Rs 23,000 for not wearing a helmet and not carrying documents.