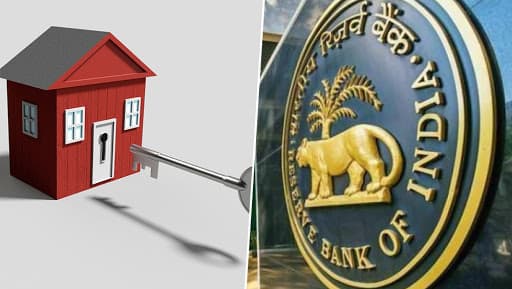 Mumbai, September 5: Following the Reserve Bank of India directions to the banks to mandatorily extend loans to borrowers at an interest rate which is based on an external benchmark, home loans seekers have a new reason to smile. With the new directions in place, banks will have to migrate from the Marginal Cost of Lending Rate (MCLR) regime from October 1. Total Bank Frauds in 2018-19 Rose to Rs 71,543 Crore, Up From Rs 41,167 Crore in 2017-18: RBI
Earlier in Thursday, RBI made it mandatory for banks to link loans to retail customers and micro, small and medium enterprises (MSMEs) to external interest rate benchmarks. Apart from this, RBI also suggested a series of rates that lenders can choose from as the peg. This measure is seen as an attempt to revive flagging growth, which sank to the slowest in six years in the June quarter.
Though giving directions to the banks extend loans borrowers at an interest rate, RBI left risk premium charges to be decided by the lenders. The banks can now decide the repo-linked lending rate (RLLR) home loan, first launched by State Bank of India (SBI). Through this move, borrowers can take a loan at a reduced rate, which is based on the Marginal Cost of Funds based Lending Rate (MCLR). RBI to Transfer Rs 1.76 Lakh Crore of Surplus Reserves to Centre as Per Bimal Jalan Panel Guidelines.
The new system is applicable not only for new borrowers, but also for the existing borrowers. The only thing that the existing home loan borrowers will have to do is switch to RLLR linked home loan after October 1. While, a reverse switch to either Base Rate or MCLR will not be possible. SEBI Data Says Investors Lost Rs 13 Lakh Crore in 1 Month Post Union Budget 2019
Considering the new change in plans by Reserve Bank to revive the plunging economic growth and the falling rate of borrowers applying for home loans, the new flexible rate is sure to attract people to banks. While, there is a caution too -- there will always exist a risk of servicing a higher rate of interest for loan borrowers.