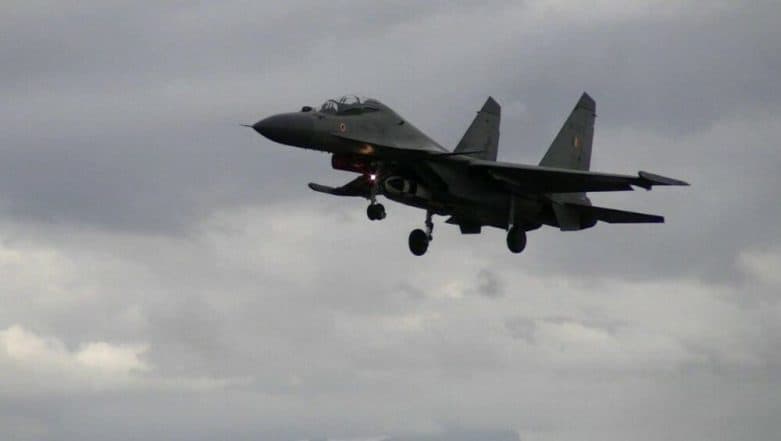 New Delhi, July 10: The  Indian Air Force (IAF) is likely to buy 18 more Sukhoi Su-30 MKI multirole fighters and 21 Mikoyan MiG-29 from Russia. Deputy Director of Russia's Federal Service for Military-Technical Cooperation (FSMTC) on Monday said that India has placed a request for an additional 18 Su-30 MKI kits and over 20 modernised MiG-29 aircraft. Cash-Strapped HAL May Get Order Worth Rs 3,000 Crore From Indian Air Force.
"We have fully met our commitments on delivering all technological sets of Su-30MKI fighter jets and have received an additional bid for another 18 technological sets," Vladimir Drozhzhov told Russian News agency TASS. Hindustan Aeronautics Limited (HAL) will assemble the Sukhoi twinjet multirole air superiority fighters in India. IAF Mulls Upgrade in Its Fleet With Rs 1.5 Lakh Crore 'Make in India' Deals for 170 Aircraft.
On September 2002, the first Sukhoi Su-30 MKI joined the IAF. According to reports, Russia has delivered all components and kits to HAL to assemble 222 Su-30 MKIs. Till now, 272 Su-30 MKIs were in the service. Out of these 272 aircraft, the first 50 were flown to India in redy to fly condition. Drozhzhov also said that the FSMTC also received proposals on supplying more than 20 modernised MiG-29 fighter jets and a request for modernising some 450 T-90 tanks.
Recently reports also surfaced that the IAF is pressing for the Request for Proposal (RFP) to be issued by late-2019 or early-2020 for acquiring 114-fighter jets. Six global companies including Boeing, SAAB and Lockheed Martin. Meanwhile, India will also get the first batch of four Rafale jets in September.