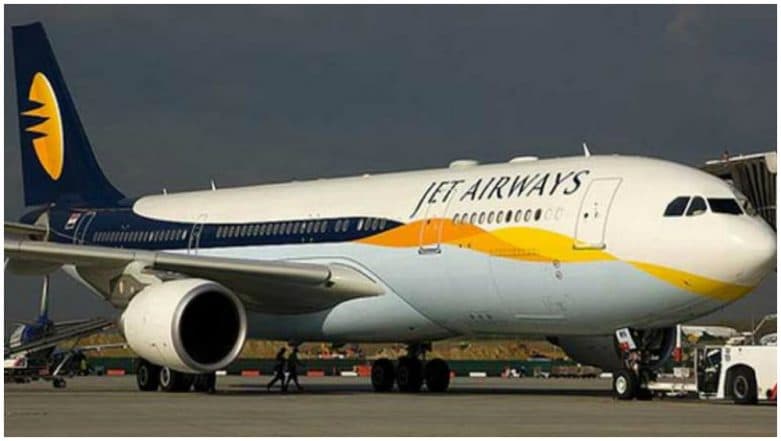 Mumbai, October 20: Amidst cash crunch, private carrier Jet Airways is reducing domestic flights. According to a report published in Business Standard, the airline has already begun cancelling flights. At least 20-30 departures are being cancelled daily from metros and other airports from big cities like Ahmedabad, Hyderabad and Bengaluru. Many aviation analysts are of the opinion that grounding of planes and poor seat loads are mains reasons for the cancellations.
According to the report, thirteen of its planes including ATRs, Boeing 737s, Airbus A330s and Boeing 777 are on the ground. The airline operates around 650 flights daily and has a fleet of 124 planes. Jet Airways on Friday said it would disburse 25 per cent of the September salary to its pilots and engineers along with the senior management on October 25th. Jet Airways Airline Giving 2 Free Tickets to Everyone to Celebrate Their 25th Anniversary Is a SCAM! Don't Believe in Fake News
The private carrier has still not given any timeline on the payment of the rest 75 per cent of the salary for last month. The airline has over 16,000 employees on the payroll. According to the report, The airline has been discounting forward sales to raise funds. "We would like to inform you that the first tranche (25 per cent) of September salary will be remitted on the forthcoming week of October 25," reported news agency PTI quoting Jet Airways Chief People Officer Rahul Taneja as saying. Jet Airways Reports Rs 1,323 Crore Loss in First Quarter, as Against Rs 53.50 Crore Profit Last Year
Though the private carrier paid the first tranche of 50 per cent of August salary on September 11, it again made only 50 per cent payment of the second tranche and deferred the payment of the balance amount to a later date.