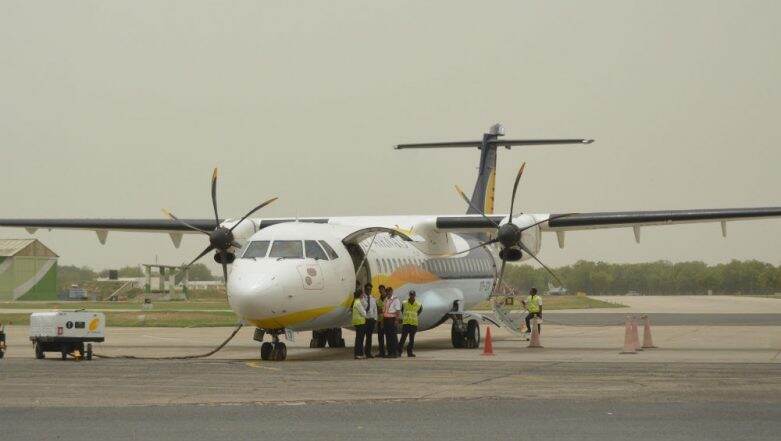 New Delhi, April 10: The debt-ridden airline firm – Jet Airlines – is in trouble again for non-payment of outstanding bills. In the latest, Indian Oil Corporation Ltd (IOCL) has once again stopped fuel supply to Jet Airways across the nation due to non-payment of outstanding Bills on Wednesday. This is the second time in a week that this situation has occurred and flights are kept at bay in the airports.
Earlier, a shocking report from Holland shook the airline company where Jet Airways' Amsterdam-Mumbai flight 9W 231 is currently stuck at Holland's Schiphol Airport after the seizure of the aircraft due to non-payment of dues to a European cargo firm. The action was taken before passengers could board the plane, and as a result, they are waiting at Schiphol Airport. The Mumbai–bound flight was amongst the few ones that are operating on an international route. Jet Airways Aircraft Seized in Amsterdam For Non-Payment of Dues, Passengers Stuck.
Briefing about the situation, the Jet Airline spokesperson said, "Jet Airways' flight 9W 231 Amsterdam-Mumbai of Wednesday has been delayed due to operational reasons. Guests have been informed of the same and have been taken care of and served with refreshments during their wait. The airline will further update guests with revised timings. Jet Airways regrets the inconvenience caused to its guests." Jet Airways Pilots Defer Decision Not to Fly, Sets April 15 Deadline.
According to the schedule, the Jet Airways' Amsterdam-Mumbai flight 9W 231 was scheduled to leave Amsterdam 11:35 am (local time). As the flight was fully booked, the airline is trying to make arrangements to bring back the passengers. Since Jet Airways is now almost bankrupt, Jet Airways pilots union served a legal notice to the management of the airline over delays in the payment of salary.