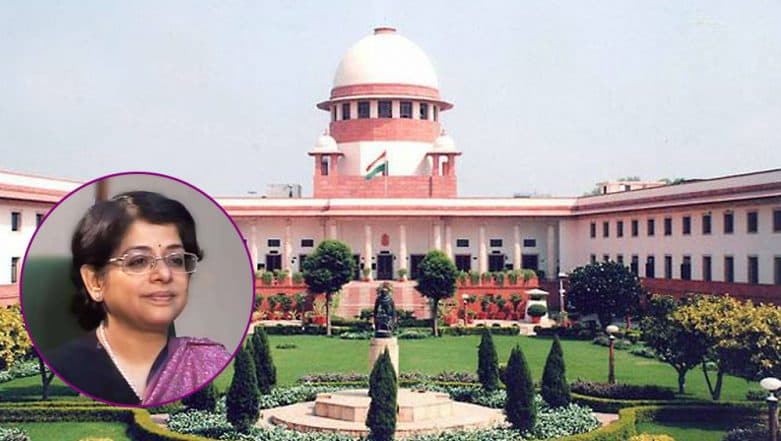 New Delhi, April 25: Justice Indu Malhotra has been announced as the replacement of Justice NV Ramana in the panel set up to probe sexual harassment allegations levelled against Chief Justice Ranjan Gogoi. The decision, taken by Justice SA Bobde, came hours after Justice Ramana opted out of the panel citing the apprehensions raised by the complainant.
In a letter written to the judges' panel on Tuesday, the complainant, who is a former apex court staffer, said Justice Ramana is a "close friend" of CJI Ranjan Gogoi and may therefore be unable to treat her affidavit objectively. SC Appoints Retired Justice AK Patnaik to Head Inquiry Into Lawyer's Conspiracy Claim.
"Justice Ramana is a frequent visitor to the residence of the CJI. Because of this I fear that my affidavit and evidence will not receive an objective and fair hearing," she said in her letter.
Another decision to appoint Justice Indu Malhotra into the panel could be the apprehension raised by the complainant over the presence of only one woman judge - Indira Banerjee - in the committee constituted by Justice Bobde on Tuesday.
The complainant in her letter said that the Vishaka Committee guidelines mandates the majority presence of women in any panel probing in-house sexual harassment allegations.
Justice Ramana, earlier in the day, sent a note to Justice Bobde opting himself out of the panel. He, however, dismissed the woman's claim that his proximity to CJI Gogoi would had led to biased inquiry.
"I categorically reject these baseless and unfounded aspersions on my capacity to render impartial judgment in this matter, in consonance with the best traditions of judicial propriety and the integrity of this Honourable Court," he said.
Justice Ramana, however, added that it is necessary for him to opt out of the panel to maintain the highest standard of judicial propriety and wisdom. "Justice must not only be done, but also manifestly seem to be done," he added.