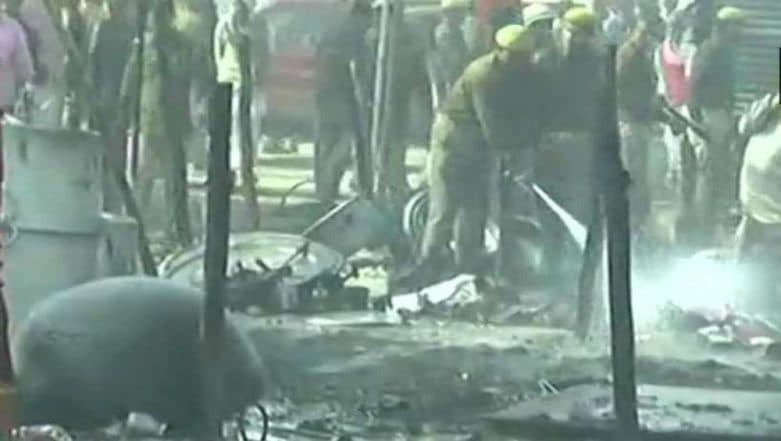 Lucknow, January 14: A fire broke out at Kumbh Mela Complex in Uttar Pradesh's Prayagraj on Monday. Although no one was injured in the fire, several tents were gutted in flames. Initial reports suggested that a pandal set up for Kumbh Mela near Digambar Akhada caught fire after which raging flames had engulfed other tents.
"The fire has been contained and the area is being cleared now. There has been no loss of life or injuries," a senior police officer told news agency ANI. The exact cause of the fire was not immediately confirmed by officials. Some reports suggested a cylinder exploded leading to a massive fire in Kumbh. Kumbh Mela 2019: Who Are The Naga Sadhus and Where Do They Come From?
The incident cast a shadow on the Uttar Pradesh government's preparations for Kumbh Mela which is set to begin in Prayagraj from January 15. Special Trains for Prayagraj Kumbh Mela 2019.
#WATCH Fire fighting operations underway at a camp of Digambar Akhada at #KumbhMela in Prayagraj after a cylinder blast. No loss of life or injuries reported. pic.twitter.com/qcbh8IPl5Y

— ANI UP (@ANINewsUP) January 14, 2019
The Kumbh The Mela, inscribed in the UNESCO Representative List of the Intangible Cultural Heritage of Humanity in 2017, is the biggest "peaceful congregation of pilgrims on the earth", as per UNESCO.