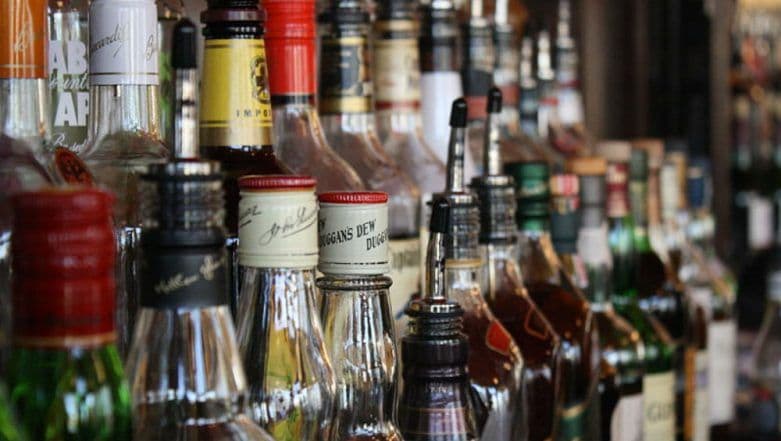 New Delhi, February 6: According to excise department data, the sale of liquor in India rose by 10 per cent in 2018 after two consecutive years of decline. Sales volume of India-Made Foreign Liquor (IMFL) rose to 359 million cases in 2018, the highest since 2012. Demand for whisky, brandy, rum and vodka also increased in 2018, reports a daily, citing excise department data.
In 2017, the Supreme Court had restricted the sale of alcohol near state and national highways, resulting in the closure of nearly one-third of the 30,000 liquor shops in the country. Following the apex court's order, sales of liquor fell 3  per cent to 328 million cases in 2017, the worst year in more than a decade. Later, the top court relaxed conditions for liquor sales and allowing many outlets to reopen. Women March to Bengaluru Demanding Ban on Liquor.
The liquor industry is struggling since 2016 after Kerala, Bihar and Tamil Nadu — which account for 20% of the country's alcohol consumption — put in place varying degrees of prohibition. West Bengal, Chhattisgarh and Jharkhand restricted the sale of liquor through government-owned outlets, which added to their woes.
According to a recent report by Nirmal Bang, liquor industry witnessed a sharp slowdown from growth in the "high teens" to as low as 4 per cent during FY12-17 but it expects this trend to reverse. Rajasthan: Liquor Sale Banned in State After 8 PM, Violators to Lose Licence Rules CM Ashok Gehlot.
"The sector, along with overall consumption trends, witnessed a somewhat stable trend in FY18 and a sharp improvement in FY19," it said. "As argued earlier, we expect revenue trend for the sector to remain on a strong wicket and on overall basis we expect it to outperform food, tobacco and home and personal care by about 200-400 basis points during FY18-FY21."