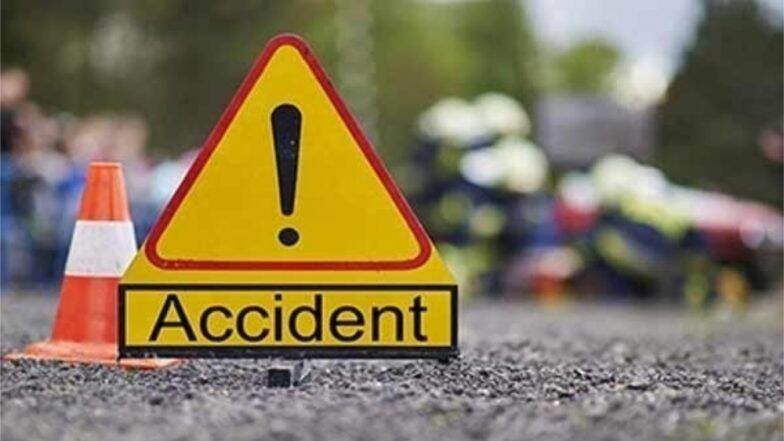 Tikamgarh, October 7: A First Information Report (FIR) has been registered against Bharatiya Janata Party (BJP) MLA Rahul Singh Lodhi on Monday after two people died upon being hit by his car in Madhya Pradesh's Tikamgarh. According to news agency ANI, BJP Khargapur MLA Lodhi, nephew of former Union minister Uma Bharti, was driving the car. Madhya Pradesh Road Accident: Six Dead After Truck Collides With Auto-Rickshaw on Mumbai–Agra National Highway in Shivpuri District.
"According to eyewitnesses, the SUV of MLA Rahul Singh Lodhi hit the bike killing two persons on the spot. Another person riding that motorcycle was injured. He was admitted to the district hospital for treatment," said Tikamgarh Superintendent of Police (SP) Anurag Sujania. Accident On Pune-Solapur Highway: Nine Killed After Car Collides With Truck Near Kadam Wakwasti Village.
Tweet by ANI:
Madhya Pradesh: An FIR has been registered against BJP's MLA from Khargapur, Rahul Singh Lodhi, after 2 people died upon being hit by his car in Tikamgarh today. The MLA was driving the car at the time of the incident.

— ANI (@ANI) October 7, 2019
The deceased has been identified as Ravi Ahirwar, 23, and Brijendra Ahirwar, 25, who died on the spot. In the accident, one person was injured who has been referred to the hospital. Earlier, the BJP leader had denied any accident. He said he was in Futer village.
"I was in Futer village in my constituency and my driver was coming to pick me up. My vehicle was passing from the (Tikamgarh-Chhatarpur) road at the time of the accident," the BJP MLA claimed. According to reports, the villagers and family member of the victim blocked Chhatarpur-Tikamgarh road demanding complaint against Rahul Singh Lodhi.