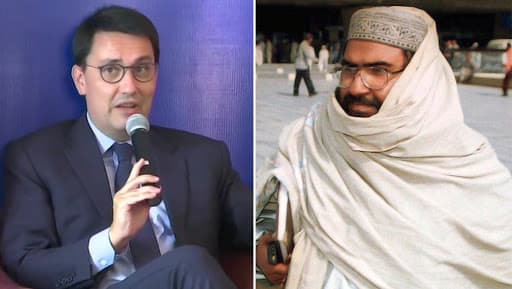 New Delhi, May 3: Two days after the United Nations Security Council listed Jaish-e-Mohammad chief Mohammad Masood Azhar Alvi as a global terrorist, French Ambassador to India Alexandre Ziegler stated that its a good news for the global community and India as well. The comments come a day after United States' Secretary of State Mike Pompeo applauded his team for negotiation with a permanent member of the UNSC.
Speaking at a press gathering in the national capital on Friday, Ziegler said, "It's a very good news for world community and India as well. The first-time world reached consensus, all members of UNSC reached consensus. We've initiated process of listing Masood Azhar in EU Commission nationally, process just about to succeed." Mike Pompeo Applauds His US Team on Negotiation With UNSC Members for Designating Masood Azhar as Global Terrorist. 
Adding more, he said, "We supported it (global ban on Masood Azhar) after 2001 and in 2016; re-initiated process in 2017. Then after Pulwama, we took initiative. UNSC President initiated process of issuing a statement that perpetrator of attack should be sanctioned."
It is to be known that before the USA, France had moved the plea in the UNSC in March, however it did not get the support of China - also a permanent member. But on May 1, the US move to impose UNSC sanctions on Masood Azhar and declare him a global terrorist got success.
Now with the global ban in place, Masood Azhar's assets freeze, travel ban and an arms embargo are on the cards. With Pakistan itself declaring that Masood Azhar is in their country, Pakistan's Prime Minister Imran Khan has assured the global community of taking stringent action. Pakistan even stated that it would make sure JeM chief would not slip away in the meantime.