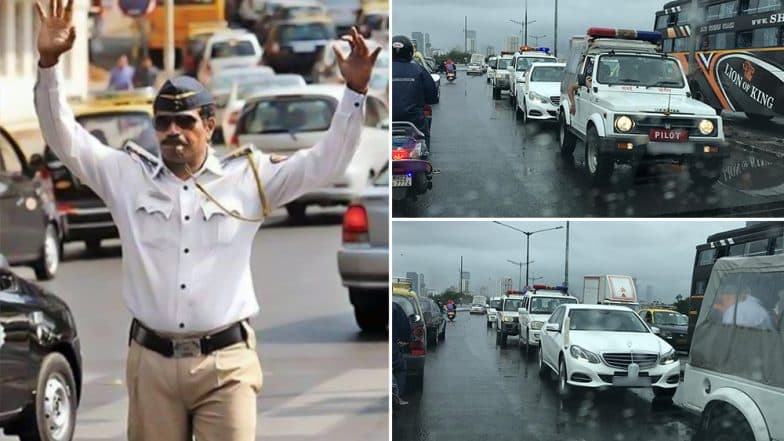 Mumbai, September 5:  The heavy charges imposed on violators of traffic rules have been making news for the past two days. The Motor Vehicle (Amendment) Act, 2019, came into effect recently and has seen some unprecedented fine amount charged. However, amidst all the talk on following traffic rules, a video shared on Twitter allegedly shows a VIP vehicle moving on the wrong side of the road. The video has led to outrage on Twitter as users questioned the selective implementation of law. Motor Vehicle (Amendment) Act, 2019: Delhi Cops to Pay Double Fine For Violating Traffic Rules.
Mumbai was bettered by rains on Wednesday which affected the passage of traffic which resulted in long-jams. The video shared shows a vehicle moving in the wrong direction, even as a long traffic jam is seen on the other side of the highway due to heavy rains and water-logging. "Plz let everyone know who is the VIP," asked the user who uploaded the video. Gurugram Traffic Police Imposes Rs 59,000 Fine on Trolley Driver for Drunken Driving Under Motor Vehicles (Amendment) Act 2019, Cops in Bhubaneswar and Bengaluru Follow Suit.
Watch the Video Below
Dear @MumbaiPolice @Dev_Fadnavis

When lakhs and lakhs of mumbaikars were sitting in traffic for hours and hours....who is this VIP who needs to go on the wrong side of the road so he can reach fast pic.twitter.com/linAXKXKxe

— Darshan Mehta (@darshanvmehta1) September 4, 2019
On a closer look, the number plate of the "VIP" car is visible, however, no action was taken against the driver. The clear violation of traffic laws and the non-action by the traffic police have got Twitter users and common people really angry. Several accounts on Twitter also tagged Mumbai Police and complained about the violation. However, by the time this report was published, the Mumbai Police had not replied to the tweets and complaints on Twitter.