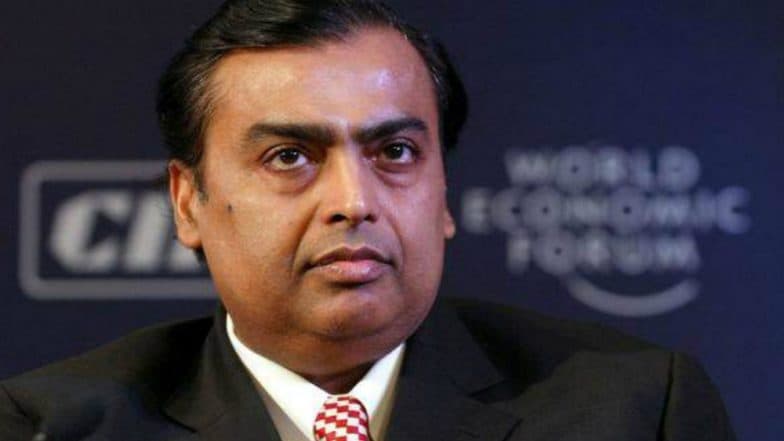 Singapore/New Delhi, October 11: Reliance Industries Limited Chairman Mukesh Ambani remains to be India's richest for the 12th consecutive year in the 2019 Forbes India Rich List, which was released on Friday in Singapore. Details state that he owns a wealth of USD 51.4 billion and had added USD 4.1 billion to his net worth with his three-year-old telecom unit Jio. The second position has been allotted to infrastructure tycoon Gautam Adani, who jumps eight spots this year, with a net worth of USD 15.7 billion.
The list released by the global ranking agency states that despite a slowing economy in the country, some tycoons saw big gains to their fortunes. Following Ambani and Adani, Hinduja brothers have been ranked at third position with a net worth of USD 15.6 billion, while Pallonji Mistry was ranked fourth with USD 15 billion. Jumping the ladder, banker Uday Kotak stepped into the fifth spot for the first time with USD 14.8 billion. Forbes state that Kotak Mahindra Bank's share rose 39 percent in the past year. Mukesh Ambani Retains Top Position on List of Richest Indians By China's Hurun For 8th Straight Year, Check Full List Here.
Expecting that India's slowing economy would bounce bank soon, Asia Wealth Editor and India Editor of Forbes Asia Naazneen Karmali said, "While India's slowing economy took a toll on the combined wealth of the nation's 100 richest this year, there were some who defied the odds to charge ahead. Resilience is the hallmark of Indian entrepreneurs, and they have the capacity to take setbacks in their stride. It won't be long before they bounce back."
Among the other achievers featured in the list include Kalpataru's Mofatraj Munot (at 75th position with USD 1.85 billion ), UPL's Rajju Shroff (at 87th position with USD 1.69 billion), cofounders of Infosys K Dinesh (at 89th position with USD 1.61 billion) and SD Shibulal (at 100th position with USD 1.4 billion). Apart from this, six newcomers featured in this year's list. They include Singh family (at 41st position with USD 3.18 billion), BYJU's Byju Raveendran (at 72nd position with USD 1.91 billion), Aristo Pharmaceuticals' Mahendra Prasad (at 81st position with USD 1.77 billion), Haldiram Snacks' Manohar Lal and Madhusudan Agarwal (at 86th position with USD 1.7 billion), Jaquar's Rajesh Mehra (at 95th position with USD 1.5 billion) and Astral Poly Technik's Sandeep Engineer (at 98th position with USD 1.45 billion).
Here's the top 10 richest in Indian in Forbes list:
1. Mukesh Ambani: USD 51.4 billion
2. Gautam Adani: USD 15.7 billion
3. Hinduja brothers: USD 15.6 billion
4. Pallonji Mistry: USD 15 billion
5. Uday Kotak: USD 14.8 billion
6. Shiv Nadar: USD 14.4 billion
7. Radhakishan Damani: USD14.3 billion
8. Godrej family: USD 12 billion
9. Lakshmi Mittal: USD 10.5 billion
10. Kumar Birla: USD 9.6 billion
Forbes informed that the complete list is available at www.forbes.com/india and www.forbesindia.com. It also stated that the list could also be found in the special issue of Forbes Asia and the December issue of Forbes India.