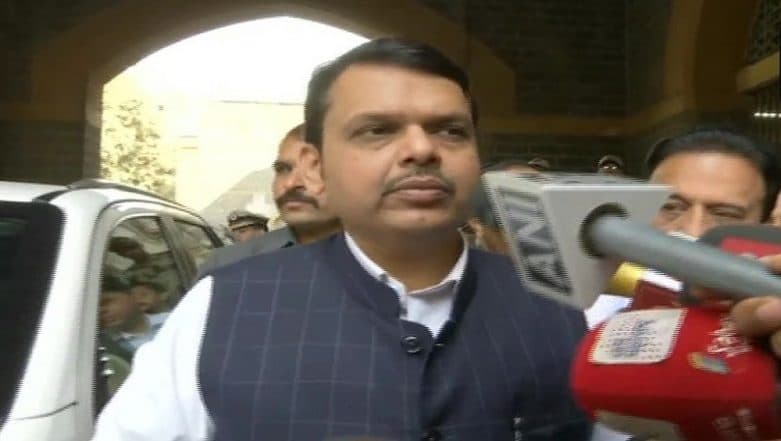 Mumbai. March 15: Maharashtra Chief Minister Devendra Fadnavis today met all those who were injured in a foot over bridge (FOB) collapse on Thursday in Mumbai. While speaking to media, Fadnavis said "There are around 10 injured admitted in the ward, one in ICU; all out of danger now." The Maharashtra CM also ordered an inquiry to probe into the matter to "fix primary responsibility by the evening". An FIR has also been lodged. He also visited the spot of the bridge collapse. Mumbai Foot Over Bridge Collapse: BMC Issues Helpline Numbers, Maharashtra Government Orders Probe.
Devendra Fadnavis visiting the collapse site:
Mumbai: Maharashtra Chief Minister Devendra Fadnavis visits the spot where part of a foot over bridge near CSMT railway station collapsed yesterday. 6 people had died in the incident. pic.twitter.com/aHB3VLufDw

— ANI (@ANI) March 15, 2019
Meanwhile, the FOB was given clearance certificate in the audit report ordered by the Maharashtra government after the Mumbai-Goa highway bridge collapse in 2016. Following the audit exercise, the report was submitted in 2018 and made public only after a road overbridge — Gokhale bridge in Andheri — collapsed killing two persons. The foot over bridge that collapsed on Thursday was declared 'fit for use' and had only been recommended for 'minor repairs' in the structural audit.
On Thursday, the 35-feet high foot over bridge (FOB) outside Chhatrapati Shivaji Maharaj Terminus (CSMT) collapsed at 7:31 pm killing six people. The FOB was officially known as Himalaya bridge. Following the tragedy, the Mumbai police registered a case against concerned officials of the BMC and railways. Prime Minister Narendra Modi expressed deep anguish over the deaths and said the Maharashtra government is providing all possible assistance to all those affected.