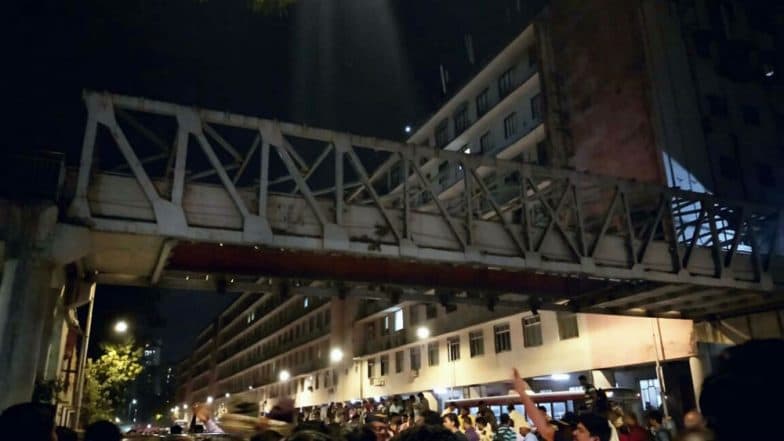 Mumbai, March 15: The foot over bridge (FOB) outside Chhatrapati Shivaji Maharaj Terminus (CSMT) in Mumbai that collapsed on Thursday killing at least six persons was declared 'fit for use' in an audit report just six months ago. At 7:31 pm, flooring of the FOB, which is officially known as Himalaya bridge, collapsed taking down scores of rush-hour commuters from a height of 35 feet. Following the tragedy, the Mumbai police registered a case against concerned officials of the BMC and railways.
After the Mumbai-Goa highway bridge collapse in 2016, the Maharashtra government had ordered the survey of all bridges across the state. Following the audit exercise, the report was submitted in 2018 and made public only after a road overbridge — Gokhale bridge in Andheri — collapsed killing two persons. The foot over bridge that collapsed on Thursday was declared 'fit for use' and had only been recommended for 'minor repairs' in the structural audit, reports Indian Express. Mumbai Foot Over Bridge Collapse: BMC Issues Helpline Numbers, Maharashtra Government Orders Probe.
The Himalaya bridge collapse leads to questions being raised over the quality of the survey exercise itself. "I have sought custody of documents related to the structural audit. Once I go through it, the further course of action will be decided… Strict action will be initiated if negligence is found," BMC Commissioner Ajoy Mehta was quoted as saying. Politicians from several parties including the Bharatiya Janata Party, the Shiv Sena, the Congress, the Nationalist Congress Party and others rushed to the site and activists helped in the rescue operations.
Prime Minister Narendra Modi expressed deep anguish over the deaths and said the Maharashtra government is providing all possible assistance to all those affected. Railway Minister Piyush Goyal expressed "sincere condolences to the family of the victims" and said the railway doctors and personnel are assisting the local authorities grapple with the tragedy. Mumbai Foot Over Bridge Collapse: Here's A Look At Similar Recent Mishaps in The Maximum City.
Chief Minister Devendra Fadnavis said he was "pained" to hear of the tragedy, and spoke to BMC Commissioner Ajoy Mehta and Mumbai Police and instructed them to ensure speedy relief efforts. On the other hand, former Union Minister Milind Deora said it was absolutely unacceptable that the bridge collapsed just six months after a structural audit and demanded a case of murder be lodged against the BMC officials responsible for this negligence.
Maharashtra Congress President Ashok Chavan also demanded stringent action against the officials responsible for negligent administration which cost five human lives.