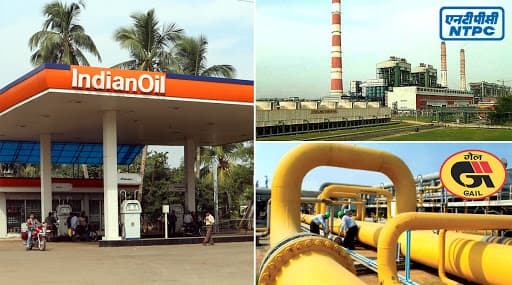 New Delhi, Septemeber 30: With an aim to boost the disinvestment mop-up in the country, the Narendra Modi government is planning to cut its stake in the public service undertaking (PSUs) like Indian Oil, NTPC and GAIL to below 51 percent. The Union Finance Ministry plans to raise Rs 5,000 crore on a net basis in the third quarter of the Fiscal Year (FY) 2019-20, as the first quarter had been rough and second struggling to sustain.
According to a report, published in the Financial Express, the fourth issue of Bharat-22 exchange traded fund (ETF) will hit the market on October 3-4. A senior official from the Union Ministry stated that a lot depends on Cabinet's approval to bring down government holdings in select PSUs to below 51 percent, which would lead to addressing the issue of bigger Bharat-22 ETF tranches. Air India to be Sold to Private Firms by End of FY 2019-20; Here Are Other Debt-Ridden Firms on Modi Government's Selling List.
Earlier in the Union Budget, the Finance Minister had stated, "The Centre is considering, in case where the PSU is still to be retained under government control, to go below 51% to an appropriate level on a case-to-case basis." The current government stakes are in the 52-53 percent range in many large PSUs, and the options for mobilising disinvestment revenue through Bharat-22 ETF looks a little hectic process.
As per the Union government norms, a minimum of 52 percent government stake is required for PSUs to be in ETF baskets. In the Bharat-22 ETF -- which is a diversified index of 22 stocks -- includes PSUs like IOC, ONGC, SBI, BPCL, Coal India and Nalco. Also, Indian Bank, Bank of Baroda, Bharat Electronics, Engineers India, NBCC, NTPC, NHPC, SJVNL, GAIL, PGCIL, NLC India, Axis Bank, ITC and L&T are other constituents that figure in the Bharat-22 index. Corporate Tax Cut Makes India an Investment Destination, to Attract Foreign Firms to Set Up Units, Says FM Nirmala Sitharaman.
Estimates from the market experts state that the government is aiming to attract Rs 1.05 lakh crore of its disinvestment target from the ETF for FY 19-20. So far, the government has been able to raise around Rs 35,900 crore through the Bharat-22 ETF. Earlier in November 2017, the government raised Rs 14,500 crore, while for June 2018 and February 2019, the government garnered Rs 8,400 crore and Rs 13,000 crore respectively.