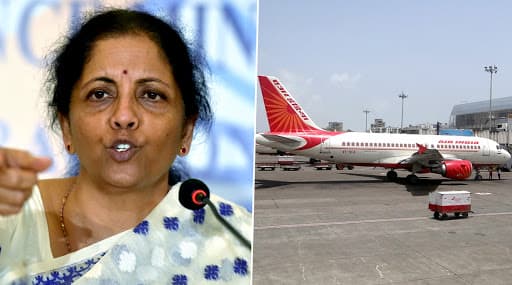 Mumbai, September 23: Reeling under the debt of over Rs 60,000 crore (USD 8.5 billion), public sector airline Air India is all set to get sold by the Narendra Modi government before the end of the 2019-20 financial year. The report has arrived from a government official in the Finance Ministry who mentioned that the Union government aims to sell two or three state-owned firms to local or foreign firms to raise funds for the debt-laden state-run carrier. Air India Disinvestment: Privatisation Likely to Draw 'Strong Interest' From Bidders, Says CAPA.
Making the news official, the Finance Ministry staff stated, on condition of anonymity, that the state-run carrier would be sold before the end of the 2019-20 financial year. Along with this, another public service undertaking (PSU) like Bharat Petroleum Corp and logistics firm Container Corp of India has been chosen to be put for sale, as the debt on these PSUs is far more manageable.
The Modi government made it quite clear that it is in no mood to repeat the same procedure of selling a government entity to another government entity. The Prime Minister's Office (PMO) official said, as quoted by global news agency Reuters, "The PMO is very clear that we cannot be selling government companies to another government company and then call it privatisation." Corporate Tax Cut Makes India an Investment Destination, to Attract Foreign Firms to Set Up Units, Says FM Nirmala Sitharaman.
Earlier in July, the government had made it clear that it wants large Indian conglomerates to bid for the ailing airline and invest in it. The government had failed to sell 76 per cent stake in loss-making Air India due to a lack of interest from bidders, but on June 2019 the government statted that the plan to sell state-run airliner is on track for 2019-2020.
Recently, Union Finance Minister Nirmala Sitharaman mentioned that about disinvestment of Air India, Group of Minister which will meet in the next few days, as Cabinet Committee on Economic Affairs (CCEA) approved a push to improve liquidity further.