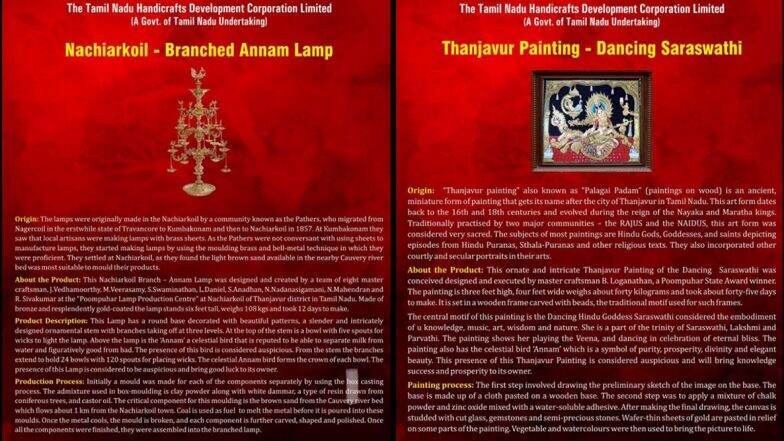 Chennai, October 11: Prime Minister Narendra Modi on Friday presented two special gifts to Chinese President Xi Jinping who arrived in India to take part in the second informal summit in Mamallapuram. PM Modi gifted Nachiarkoil, a branched Annam lamp and a Thanjavur painting of dancing Saraswathi to the Chinese Premier. PM Narendra Modi Dons Veshti During the Second Informal Summit With Chinese President Xi Jinping at Mamallapuram, View Pics.
The six-feet lamp gifted to Xi was made a team of eight master craftsman using bronze and is gold-coated, reported The Times of India. The lamp has a celestial bird "Aanam" placed at the top.  Meanwhile, the painting gifted to Jinping three-feet high, four-feet wide, weighs about 40 kgs. The painting reportedly took 45 days to complete. The painting has an image of image of dancing Hindu Goddess Saraswathi and "Aanam". Narendra Modi-Xi Jinping Meet: Everything You Need to Know About Indian PM and Chinese President's Second Informal Meet at Mahabalipuram.
ANI's Tweet:
Gifts to Chinese President Xi Jinping from Prime Minister Narendra Modi: Nachiarkoil -Branched Annam Lamp and Thanjavur Painting-Dancing Saraswathi. pic.twitter.com/F1Sr5ttFZ3

— ANI (@ANI) October 11, 2019
Earlier in the day, Jinping who arrived in Chennai received a grand welcome by the people of Tamil Nadu. The Chinese Premier was given a red-carpet welcome by Tamil Nadu Governor Banwarilal Purohit and Deputy Chief Minister O Panneerselvam. PM Modi welcomed Jinping in the traditional attire of Tamil Nadu "Veshti".
The first day of the summit summed up by the two leaders' visit at the Pallava architectures, followed by their attendance at a cultural event organised at the 8th century-built Shore Temple in the historic seaside town of Malappuram.