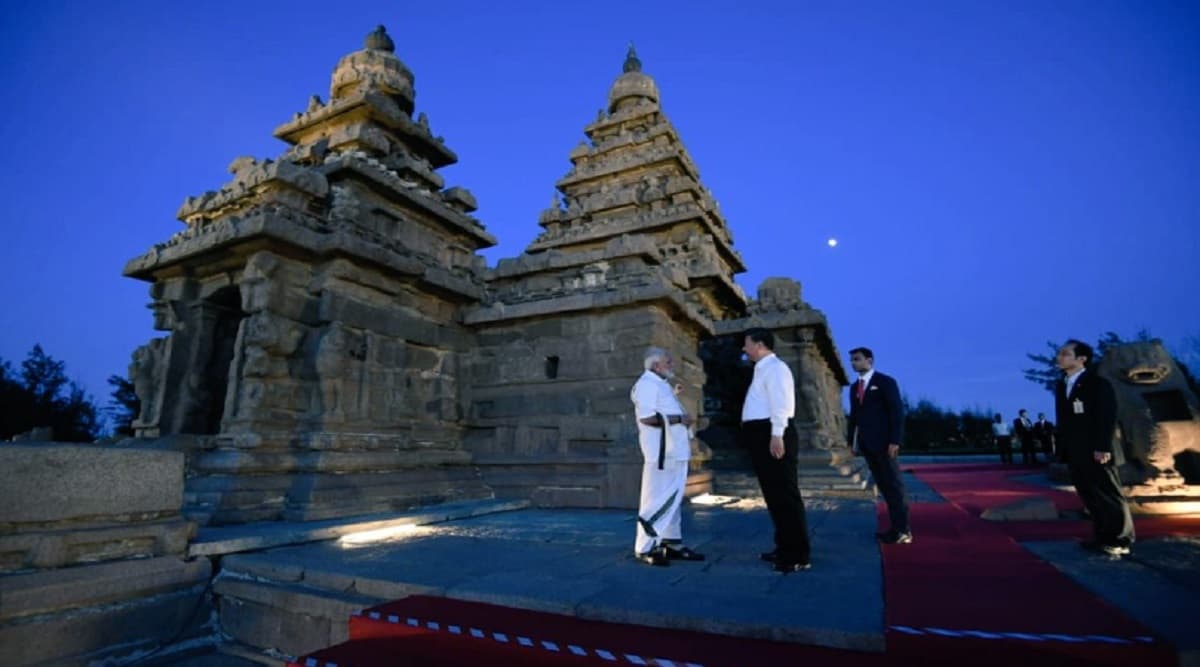 New Delhi, October 11: The first day of the informal summit between Indian Prime Minister Narendra Modi and Chinese President Xi Jinping was summed up by the two leaders' visit at the Pallava architectures, followed by their attendance at a cultural event organised at the 8th century-built Shore Temple in the historic seaside town of Malappuram. The two leaders are expected to discuss key matters, in a one-to-one interaction tomorrow, when the summit would end between the two leaders. Everything You Need to Know About Indian PM and Chinese President's Second Informal Meet.
Modi and Xi began their informal summit on Friday evening by exchanging pleasantries, followed by a visit to three iconic monuments. Among the heritage sites visited by the two leaders, include Arjuna's Penance, an intricately carved ancient sculpture dating back to the Pallava dynasty and Krishna's Butter Ball - a big round boulder perched on a slope.
Modi and Xi then arrived at the Shore Temple, built between 700 and 728 AD. The two leaders witnessed the cultural event, which highlighted the prowess of Tamil performing arts.
Watch Modi, Xi Enjoying Cultural Performance at Shore Temple:
#WATCH Mahabalipuram: Prime Minister Narendra Modi and Chinese President Xi Jinping attend a cultural program at the Shore Temple, a UNESCO World Heritage site. #TamilNadu pic.twitter.com/ZTj5r7WDSl

— ANI (@ANI) October 11, 2019
Taking forward the Wuhan Spirit, the Mamallapuram informal summit will provide an opportunity to the Chinese President and PM Modi to continue their discussions on overarching issues of bilateral, regional and global importance and to exchange views on deepening India-China Closer Development Partnership, the External Affairs Ministry said in a statement.
The summit is a follow up to the inaugural meet which was held in Wuhan on April 27 and 28 last year.President Xi was earlier accorded a grand welcome by people who lined the streets along with traditional drum players, creating a warm environment which personified the Indian belief of 'Atithi Devo Bhava'.