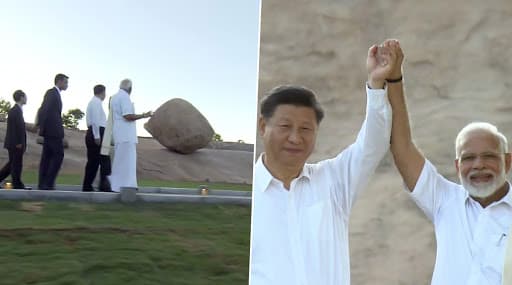 Mamallapuram, October 11: Prime Minister Narendra Modi met Chinese President Xi Jinping on Friday during the second informal summit taking place at Mamallpuram in Chennai. During the Summit, PM Modi welcomed the Chinese President in the traditional attire of Tamil Nadu "Veshti". Both the leader also visited the round boulder known as Krishna's Butter Ball. Earlier in the day, Jinping who arrived in India to take part in the two-day summit, received a grand welcome by the people of Tamil Nadu. Narendra Modi-Xi Jinping Meet: Everything You Need to Know About Indian PM and Chinese President's Second Informal Meet at Mahabalipuram.
The Chinese Premier was given a red-carpet welcome by Tamil Nadu Governor Banwarilal Purohit and Deputy Chief Minister O Panneerselvam. Immediately after Jinping arrived in India, PM Modi tweeted, "Welcome to India, President Xi Jinping!," Modi tweeted in English, sharing similar messages in Tamil and Mandarin. Both the leaders will discuss bilateral issues between India and China. 'Welcome President Xi Jinping', Says PM Modi as Chinese Premier Arrives in India For 2nd Informal Summit.
ANI's Tweets:
Mahabalipuram: PM Narendra Modi with Chinese President Xi Jinping at the round boulder known as Krishna's Butter Ball. pic.twitter.com/Jr0TxTXINp

— ANI (@ANI) October 11, 2019

Tamil Nadu: Prime Minister Narendra Modi arrives in Mahabalipuram for the second informal summit with Chinese President Xi Jinping. PM Modi is adorning a veshti (dhoti). pic.twitter.com/vbVqOUfN0A
— ANI (@ANI) October 11, 2019
Mamallapuram is chosen for the summit as the historical city had ancient links with China during the Pallava dynasty. It was the major port city in the seventh century and served as a gateway between South India and China for import and transport of goods.
The first informal summit between PM Modi and Jinping took place in China's Wuhan last year. National Security Advisor Ajit Doval, Foreign Secretary Vijay Gokhale and Indian Ambassador to China Gautam Bambawale were also present during that summit. It was the first meeting of the two leaders after the 70-day standoff between Indian and Chinese armies at Doklam.