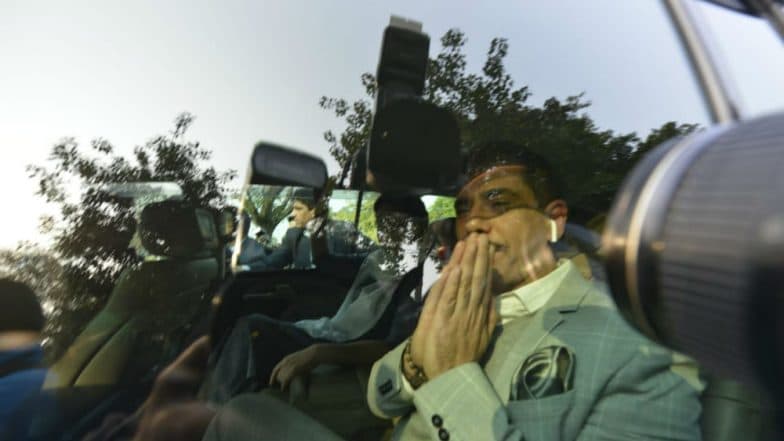 New Delhi, February 7: Businessman Robert Vadra, the brother-in-law of Congress President Rahul Gandhi, will be questioned by the Enforcement Directorate (ED) again today in connection with money laundering and illegal foreign assets cases. In his first appearance before the ED on Wednesday, Robert Vadra was grilled by investigating officers of the ED for more than five hours at its Delhi office. The officers reportedly posed as many as 40 questions to Vadra and written answers for each of them.
On Wednesday, Vadra, accompanied by his wife Priyanka Gandhi, arrived at the ED's office located in central Delhi's Jamnagar House at 3:45 pm and left at 9:35 pm. After dropping Vadra at the ED office, Priyanka left the premises. Vadra was grilled by a team of seven ED officials of the rank of Deputy Director and Assistant Directors. "He has given an undertaking that he will appear when summoned," Suman Jyoti Khaitan, his lawyer told the media, adding that all charges against Vadra were wrong.
According to reports, Vadra was asked questions relating to transactions, purchase and possession of certain immovable assets in London. The case relates to the ownership of 1.9 million pounds of undisclosed assets abroad, allegedly belonging to Vadra. The ED also lodged a money laundering case against Vadra's close aide Manoj Arora after his role surfaced during a probe by the Income Tax Department into another case under the new Black Money Act and tax law against absconding arms dealer Sanjay Bhandari. Priyanka Gandhi Gets Her Own Office At Congress Headquarters Ahead of Lok Sabha Elections 2019.
While Vadra reportedly admitted he knows Arora, he denied having any links with Bhandari. The questioning came in the wake of an order by a Delhi Court on February 2 directing Vadra to appear before the ED for questioning while hearing the anticipatory bail plea filed by him. The court had on Saturday also granted interim bail to Vadra till February 16. Vadra had filed anticipatory bail plea alleging that he was subjected to false prosecution which has the colour of 'political witch hunt'.
Priyanka, shortly after dropping her husband, took charge as AICC general secretary in-charge of Uttar Pradesh East, after her formal induction into the Congress party on January 23. "He is my husband, he is my family…I support my family," Priyanka said in a show of support to Vadra. Asked if it was a political vendetta, she said everyone knows why this is being done.