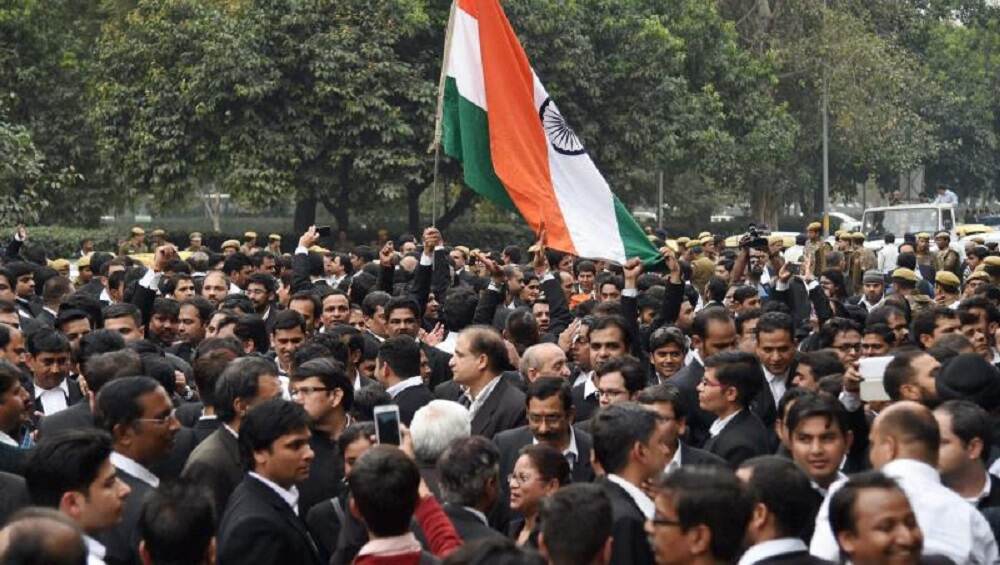 New Delhi, November 10: Lawyers' strike will continue on Monday as the meeting which was held on Sunday between the members of all district courts associations, representatives of the Delhi police and Lieutenant Governor Anil Baijal ended without any resolution. The meeting was held on the direction of the Delhi High Court. Tis Hazari Clash: CCTV Clip of DCP North Monika Bhardwaj Pleading Before Lawyers to Stop Violence While Being Attacked Herself Surfaces; Watch Video.
Coordination Committee of Delhi District Court expressed dissatisfaction on the progress made by the police in taking action against the cops who allegedly fired on lawyers on November 2. The committee told news agency ANI, "There would be complete abstinence from work tomorrow in all Delhi District Courts."
Meanwhile, Delhi police said, "During the discussion, it was explained by Police officers that since judicial inquiry is underway, further action should be taken against any alleged persons only on the basis of inquiry." Baijal appealed to police and lawyers to continue holding talks to resolve the issues. Tis Hazari Violence Aftermath: Delhi Cops Protest Outside Police Headquarters, Day After Their Colleague Was Thrashed by Lawyers.
On Friday, Bar Council of India (BCI) had directed all affiliated lawyers to return to work by Monday. Lawyers in Delhi launched the protest after their clash with personnel of the Delhi Police at the Tis Hazari court complex on November 2.
The clashes erupted between the Delhi Police and lawyers over a parking dispute. Days After the clash, Delhi Police personnel also protested outside Police Headquarters (PHQ). The Delhi Police claimed that lawyers reacted angrily to the requests they entered forcibly and started manhandling policemen. Around eight police vans were vandalised.
According to reports, 20 policemen were also injured in the violence. A day after the clash, the Delhi High Court on Sunday, took suo moto cognisance on the issue and ordered a judicial probe under the aegis of retired judge SP Garg.