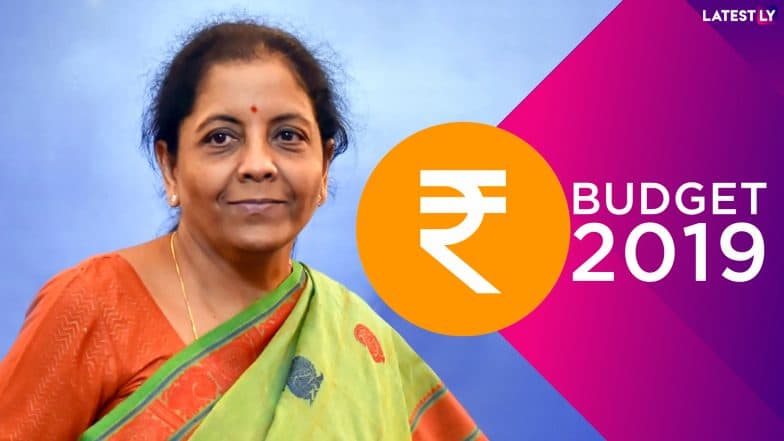 New Delhi, July 5: Finance Minister Nirmala Sitharaman on Friday presented her maiden Union Budget 2019 in the Parliament and her announced allocation of funds for revival in sectors like healthcare, defence, agriculture, small scale industries, railways among others. In her maiden Union Budget Speech 2019, she stated that her government is focussed to make 'Nari tu Narayani', and imbibe them in the rural development in the country.
The Minister informed that Railway infrastructure would need an investment of Rs 50 lakh crores between 2018 and 2030, and their government willing to reduce the urban-rural divide. She didn't change the Income Tax slab, but allocated Rs 400 Cr for Higher Education, while for reviving the agrarian crisis she infused  Zero Budget Farming scheme.
Apart from announcing the total Union Budget for 2019, she made a specific announcement for the agrarian sector to revive the unemployment rate and raise the GDP rate of the nation. As the major focus of the Prime Minister Narendra Modi government this year to uplift the economy of the country, the Union Minister mentioned that the government is looking forward to making India a Rs 5 trillion economy by the end of the fiscal year 2024. Union Budget 2019 Speech by Nirmala Sitharaman Live News Updates
Among other factors, which the Union government is concerned with, is to bring drastic changes in the current scenario in the distressed rural economy, to reduce the unemployment rate and to decrease fiscal deficit. On one side, the market is expecting high from the Union Minister and on the other, taxpayers are seeking a rebate in Income Tax and want Sitharaman to raise the exemption limit.
Here are the key Budget highlights:
Education Budget 2019: In order to boost the education sector in the country, the Union Minister announced transforming the National Education policy for schools and higher institutes. For this, National Research Foundation will be set up, which would accelerate the research in the country in thrust areas.
The Minister informed the house that funds available with all Union ministries would be integrated. Among other schemes, she announced that Swayam has helped disadvantaged groups and Gyan programme has been approved by the government. Also, Rs 400 Cr has been allocated for higher education, which is three times more than the previous time. Apart from this, the government has also announced the approval of Study in India programme. This would focus on bringing foreign students in India.
Also, the National Sports Education board would be set up and 10,000 PM Kaushal Vikas Yojana would be initiated, which would increase focus on teaching language, artificial intelligence, etc. to foster skill development in India.
Agriculture Budget 2019: The Finance Minister announced Zero Budget Farming for the farming sector and double farmer's income. Along with this, she stated that the government is committed to ensuring water conservation for farming and ensure safe drinking water for all. This would be taken under Jal Jivan Mission, which would ensure the creation of local infra like rainwater harvesting to ensure sustainable development.
She informed the Union government has identified 1,592 blocks and 256 districts under Jal Shakti Abhiyaan. All the Union Ministries have been integrated for this project. 10,000 new farmers produce economy through e-NAM have been identified to ensure a fair price for the farmers.
MSME: Under the MSME the government has issued an order to sanction upto Rs 1 crore loan to entrepreneurs. She informed the House that Rs 350 crore has been allocated for all GST MSMEs on fresh and incremental loans.
Income Tax: As expected, the Union Finance Minister didn't propose any change in the income tax slab. However, she proposed to increase the surcharge on individuals and HULs having more than income between Rs two to five crores to three percent and seven percent for those with an amount exceeding Rs seven crore.
Banking and Financial Sector: The Union Minister while addressing the House announced that her ministry has taken strict action against the loan defaulters and due to this, the non-performing asset of commercial banks decreased by over Rs one lakh crore and the government had made recoveries of over Rs four lakh crore.
She further informed that domestic credit growth has risen by 13 percent and to boost capital to improve capital, Rs 70,000 crore have been provided. She was of the opinion that the Non-Banking financial company (NBFC) should continue to get funding. Customs duty on gold and other precious metal increased by 10.5 percent to 12.5 percent.
Sitharaman proposed to return the regulations authority from NHB to RBI, with an intention to invest Rs 100 lakh crore in the next five years. The government will constitute a board to review and suggest measures, she said.
Railways Budget 2019: With an aim to decongest the Railways, Sitharaman announced that using rivers for cargo transport are being mulled. She further stated that railway infrastructure would need an investment of Rs 50 lakh crores between 2018 and 2030. PPP (Public-Private Partnership) will be used to unleash faster development and the delivery of passenger freight services.
Adding on, to strengthen the railways and improve the connectivity of the between the rural and urban India, she proposed metro projects under PPP the mode through dedicated freight corridors.
Roadways: Like Railways, Union Minister stated Modi government is looking to decongest the Indian roads and reduce the rural-urban divide. Sitharaman informed the House that the Modi government in 2019, had constructed the roads at a high pace of 130 -135 km per day. She said that 30,000 kms of road has been constructed with green technology under PM Gram Sadak Yojana and the government constructed 1,25,000 kms with Rs 80,250 Crore in last five years.
For the electric vehicles, the Union Minister mentioned the Modi government's focus to make it more affordable and accessible to the customers in the country under FAME 2. She proposed a tax rebate of Rs 1.5 lakh per annum interest paid for a loan on the purchase of Electric vehicles. The customers can avail a maximum tax rebate of up to 2.5 lakh per annum on loan for electric vehicles.
Women Entrepreneurs: The Union Minister in her maiden speech she stated that her government is focussed to make 'Nari tu Narayani', and imbibe them in the rural development in the country. She mentioned that the government is going beyond women-centric policy to building women-led development scheme.
She announced that female entrepreneurs and women self-help groups in all Indian districts holding Jan Dhan bank account will get an overdraft of Rs 5000. Also, one woman in every SHG will get Rs 1 Lakh loan under MUDRA scheme.
Youth Empowerment:  In order to empower the youth of the country, the minister informed the House that Rs 350 cr has been allocated for 2 percent interest subvention for all GST-registered MSMEs on fresh or incremental loans. She also informed 2 percent of TDS will be charged on cash withdrawal exceeding Rs 1 crore in a year from one bank account. She said that 80 livelihood rural incubators, and 20 business incubators for encouraging entrepreneurs in agro-based industries have been proposed.
Sitharaman also said that funds raised by start-ups will not be subject to scrutiny by the IT department and she proposed easing angel tax on start-ups. Apart from the startup, she informed that to popularise sports at all levels, National Sports Education Board for development of sportspersons to be set up under Khelo India.
Housing Scheme: Sitharaman in her maiden Union Budget informed that under the PM Aawas Yojna- Gramin, 1.5 crore houses were constructed in phase 1 (2014-2019) and 1.95 crore houses are proposed to the eligible seekers with basic amenities like toilet, and clean kitchen in Phase 2 (current tenure). She also informed that 9.6 crores were toilets constructed since October 2014, and six lakh villages have become open defecation free.
Under the PM Awas yojana - Shehri Bharat, she said that 81 lakh houses with Rs 4.83 lakh crore were proposed, out of which 26 lakh have been completed. 13 lakh houses completed have been made with green energy and 95 percent of all cities have been declared Open Defecation Free (ODF).
Defence Budget 2019: Though this sector was considered most specific in the Union Budget 2019 predictions, Sitharaman didn't announce any major path-breaking proposals. She informed that the import of defence equipment manufactured outside India will be exempt from customs duty. Other than that, the announcement made during Interim-Budget will continue.
Pension Scheme: Last, but not least was the pension schemes announced by Sitharaman. In her maiden Budget, she informed that the government would extend pension benefit to around three crore retail traders and shopkeepers with an annual turnover of less than 1.5 crores under Pradhan Mantri Karam Yogi Man Dhan Scheme.  Also, she said that 30 lakh workers have already joined the schemes and pension for the unorganised sector for Rs 3000/per month is doing well.