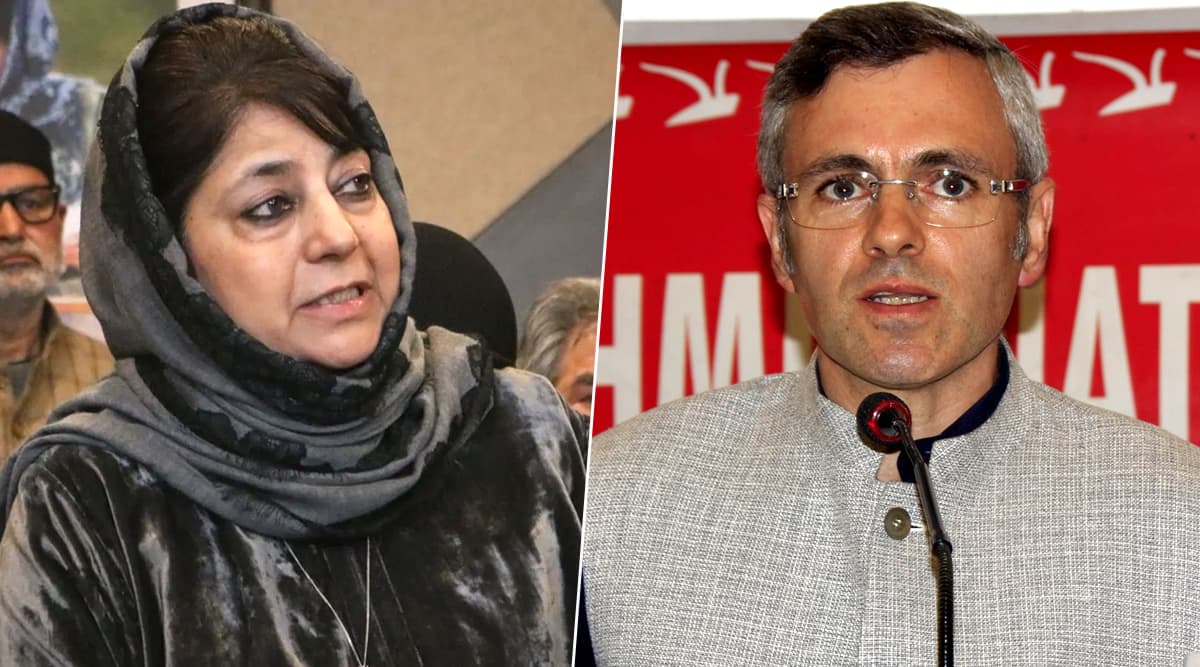 New Delhi, October 15: Union Home Minister Amit Shah has said that former Chief Ministers of Jammu and Kashmir Omar Abdullah and Mehbooba Mufti have been detained under the Public Safety Act (PSA). Omar's father and three-time Chief Minister of Jammu and Kashmir Farooq Abdullah is also under house arrest under the draconian PSA. The three leaders were detained on August 5 when the Centre withdrew Jammu and Kashmir's special status granted under Article 370. Omar Abdullah Works Out at Gym And Watches Hollywood Movies in Detention, Mehbooba Mufti Confines Herself to Books.
Responding to a question about the detention of Omar and Mehbooba, Amit Shah, in an interview to India Today on Monday, said: "Unko Public Safety Act ke tehat abhi detention mei rakha hi hai (they are still in detention under the Public Safety Act)." Bharatiya Janata Party's (BJP) Twitter handle also shared the video of Shah's statement on Omar and Mehbooba. Shah reiterated his earlier remarks made in the Rajya Sabha that Farooq Abdullah was neither arrested nor detained, but was at his home "out of his own free will". Silent on Article 370 Repeal, National Conference to Focus on Securing Full Statehood For Jammu and Kashmir.
The Home Minister said that prior to the slapping of PSA, Farooq Abdullah was not stopped from moving out of his residence by the government. "If you keep someone under house arrest, you have to inform it to the police station within 24 hours. There are records of it, many journalists tried to dig it out. But it has been proven that he was not under house arrest," Shah said. He justified detentions of mainstream leaders, adding that the Congress doesn't have the right to question the government. Jammu And Kashmir Under Siege: Security Lockdown, Communication Blackout And UT Status Leave Kashmiris With No Autonomy.
"If someone tries to incite then it will be difficult to control the situation. Some 4,000 people were detained as a precautionary measure, of which less than 1,000 are in jail today. More than 800 of them were caught stone-pelting. Why was Sheikh Abdullah jailed for 11 years when there was Article 370? Congress didn't say anything because it was in power. They justified it by saying that he incited people. But now for over two-and-a-half-months, they are making an issue out of it," Shah said.
On Agust 5, the Parliament scrapped the special status of Jammu and Kashmir granted under Article 370 and passed the Jammu and Kashmir Reorganisation Act which bifurcates the state into two union territories - Jammu and Kashmir with a legislature, and Ladakh without one. Several mainstream politicians were detained prior to the unprecedented move. The Jammu and Kashmir administration in September had informed the Supreme Court that Farooq Abdullah has been put under house arrest at his Srinagar residence as PSA was slapped against him.