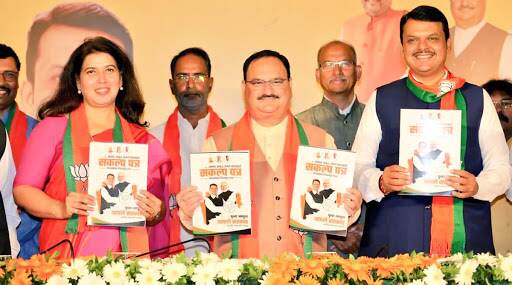 Mumbai, October 15: Hours after the Bharatiya Janata Party (BJP) demanded Bharat Ratna for Vinayak Damodar Savarkar in its manifesto for Maharashtra Assembly elections 2019, opposition parties slammed the ruling party. During a press conference, Congress spokesperson Manish Tewari said that Savarkar had faced criminal charges in Mahatma Gandhi's murder case. BJP Manifesto For Maharashtra Assembly Elections 2019 Proposes Highest Civilian Award ForVinayak Savarkar.
Tewari stated, "Savarkar had to face criminal trial for the murder of Mahatma Gandhi." He added, "Kapoor Commission had also investigated the charges. In a recent article, it was claimed that the Commission had indicted Savarkar. God save this country." He also said that in the country where Gandhi is made to commit suicide, anything is possible. Maharashtra Assembly Elections 2019: Full List of Constituencies With Current MLA Names and How BJP, Shiv Sena, Congress-NCP Fared in 2014.
All India Majlis-e-Ittehadul Muslimeen (AIMIM) Chief Asaduddin Owaisi also slammed the BJP for its demand of Bharat Ratna for Savarkar. He said that Savarkar supported the two-nation theory and also implicated by Jeevan Lal Commission of Inquiry on Gandhi's assassination.
Owaisi's Tweets:
Some gyaan about this Anmol Ratan:

1 Implicated by Jeevan Lal Commission of Inquiry on Gandhi's assassination

2 Advocated the use of rape as a political tool

3 Criticised Shivaji for not using rape as a political tool

4 Called himself the British's "most obedient servant" https://t.co/QNmtwuaCxQ

— Asaduddin Owaisi (@asadowaisi) October 15, 2019
5 Wrote SIX letters to British requesting release from prison

6 Looked up to Hitler & blamed Jews for the Holocaust

7 Muslims & other non-Hindus are to be kept outside the national fabric

8 Supported the 2 nation theory

— Asaduddin Owaisi (@asadowaisi) October 15, 2019
Earlier in the day, the BJP released its manifesto for the Maharashtra assembly elections. In the manifesto, the saffron party said it would try to get Bharat Ratna for Savarkar and also one for Jyotiba Phule and Savitribai Phule. The BJP also promised to make Maharashtra a drought-free state. The party also said that it would provide one crore jobs, homes to homeless families, compulsory health tests for those turning 30.
The elections for 288-member Maharashtra Assembly are scheduled to take place on October 21 along with Haryana assembly polls. The counting of votes will take on October 24, and on the same day, the result will be declared.