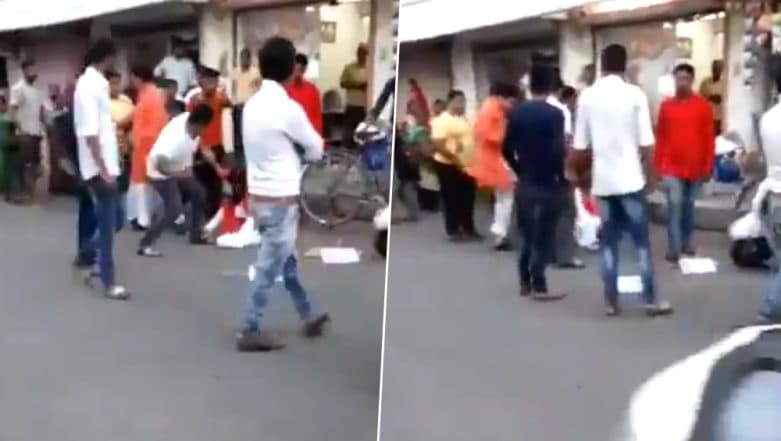 Ahmedabad, June 3: Bharatiya Janata Party (BJP) legislator from Naroda, Balram Thawani, was caught on camera kicking a woman. The incident took place on Sunday when the woman, identified as Nitu, threatened to stage a protest outside Balram Thawani's office if two days time was not given to some affected residences offices before their water supply was disconnected.
Thawani and his aides assaulted Nitu after a verbal argument. In the video, the BJP MLA is seen kicking her. Another person besides Thawani is seen slapping her in the video. Nitu's husband, Rajesh Tejwani was also heckled by Thawani's men. The dispute started last week when Thawani's brother Kishor had gone to supervise the disconnection of an allegedly illegal water connection near Maya Cinema. Usha Thakur, BJP MLA From Mhow, Follows Pragya Singh Thakur's Footsteps; Calls Nathuram Godse a Patriot.
During his supervision, Kishor had alleged heckled a person. On Sunday, Nitu, a ward-in-charge of NCP, had gone to meet Thawani and had decided to sit on a dharna. "I had gone there to seek two days' time from the MLA before the water supply line was cut. But soon Thawani and his men resorted to force to evict us. We were slapped, some even came with hockey sticks. I felt humiliated," she was quoted as saying. BJP MLA Chandel, Nine Others Sentenced to Life in Murder Case.
BJP MLA Balram Thawani caught on camera kicking woman:
After the video went viral, Thawani said he had acted in self-defence. He said he assured them to solve the issue by Monday but people started raising slogans against him. "Then, one person hit me from behind following which, I came out of the office where I was pushed around. In all that, I may have accidentally hit the woman. It should not have happened," the legislator told a leading daily.
DCP Zone 4 Neeraj Badgujar said he has not received a formal complaint from anyone. ACP AM Desai said that the police were looking into the matter.