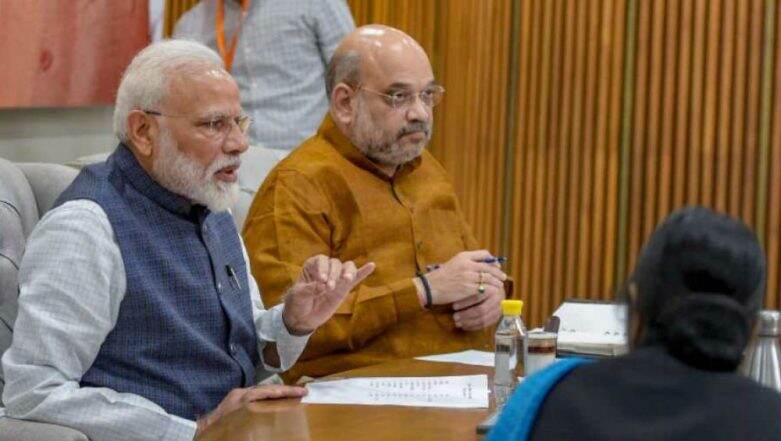 New Delhi, August 17: Keeping the upcoming Assembly elections in three states in mind, Bharatiya Janata Party is mulling national integration and security as the main issues to contest polls. This became widely visible after Union Home Minister and party president Amit Shah visited Jind in Haryana where he categorically stated that the abrogation of Article 370 had not happened for 70 years but the Union government under Prime Minister Narendra Modi had done it.
Though the issues of national integration and security are not new for the ruling party, the with the current political development, this is what the BJP is garner votes on. In 2019 Lok Sabha elections too, BJP raised similar issues and retained the power in Centre. Be it surgical strikes of Balakot airstrikes, BJP invoked the national spirit among the voters in India and it resulted in their victory in national elections. Sonia Gandhi Mulls Revival of Congress Ahead of Assembly Polls in 4 States Due This Year
Considering the current mood of the country, post abrogation of special provisions awarded to Jammu and Kashmir under Article 370 and United Nations Security Council's closed-door meeting, BJP is making all the efforts for their success they achieved in the recent times. Even the passing of triple talaq bill in Rajya Sabha is also being considered by the party as a poll issue.
Expressing his opinion, a Haryana BJP leader said, as quoted by Live Mint, "The abrogation of Article 370 and making triple talaq illegal are the biggest achievement of the government. It is obvious that the party will talk about it in the upcoming polls. Congress did not support the move of the government so now they will have to explain their position before the people." He even added that the Union government has the support of public this time.
Adding more on the strategy, the BJP leader said, as the daily quotes, "While a clearer picture will emerge once campaign strategy meetings will take place, we are going to stick to the stand we took in Parliament and convey to the people in poll campaign that the manner in which the government is handling the situation being undemocratic."
While on the other hand, Congress is struggling to regain the lost ground. Post Rahul Gandhi's resignation as party chief and Sonia Gandhi taking the charge again, Congress is looking forward to strategising its policies for Assembly elections in three states, scheduled in upcoming months.