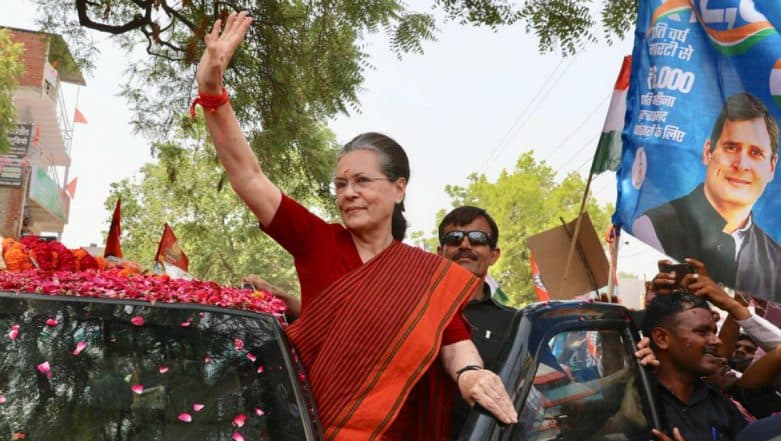 New Delhi, August 13: Days after taking charge of the Congress party again, the interim president Sonia Gandhi is mulling revival of the party organisation in four poll-bound states. Among the four poll-bound states, only Delhi is the Union Territory where the elections are scheduled next year, while Jharkhand, Maharashtra and Haryana will go to poll later this year.
According to a senior Congress leader KC Venugopal, as quoted by Hindustan Times, Ms Gandhi would soon deliberate matters including state-wise screening, election and publicity committees, and candidate lists. He said, "Certainly, Sonia ji will take organisational changes keeping in mind the upcoming state elections." Congress Leaders Hoping Sonia Gandhi's Return Will Change Party's Fortunes, a Section Roots for Early Election to President Post
Among the major works that on the priority list include filling the vacant posts of state president and Congress Legislature Party leader in some states. Also, overseeing the constitution of state committees is what the Congress interim president would initiate.
However, the major challenge for Ms Gandhi would be build confidence among the Congress leaders who lost momentum after the Lok Sabha Elections 2019 debacle and seem to be disillusioned in the wake of the leadership crisis in the party. Apart from this, organisational changes in the present set-up of the All India Congress Committee can be expected.
Congress leaders are of the opinion that since Ms Gandhi commands 'enormous respect' among Opposition leaders, her leadership can lead to a better and unified strategy.