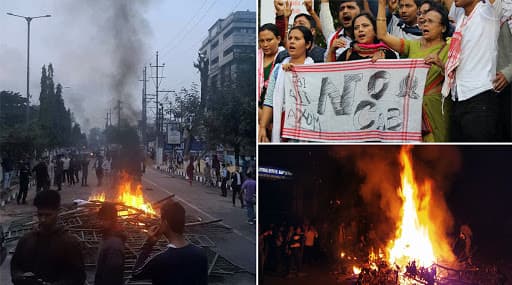 Guwahati, December 11: Hours after the state administration extended a curfew in Guwahati citing violent protest over Citizenship Amendment Bill on Wednesday, reports are arriving stones were pelted at the house of Assam Chief Minister Sarbananda Sonowal in Dibrugarh by protesters. Also, protesters have vandalised Chabua and Panitola railway stations and set fire to properties there.
Following this, Dibrugarh and Tinsukia railway stations have been put on high alert. Also, curfew has also been imposed in Dibrugarh, apart from Guwahati. According to the reports, both by news agencies PTI and ANI, protesters have set ablaze two railway stations in Assam including -- Chabua and Panitola. Apart from this, properties worth millions were vandalised in the state capital as a mark of protest against the CAB 2019, which was passed in Rajya Sabha amid the massive uproar. Curfew in Guwahati Extended Indefinitely as Protests Against Citizenship Amendment Bill Turn Violent.
Earlier, the Indian Railways have cancelled 12 trains and short-terminated ten others as several groups in Assam have called for a "rail roko" protest on December 12-13. The agitation has been called on the tracks of Railway line in Tinsukia and Lumding divisions by protesting bodies under the aegis of North East Students' Organisation (NESO) and All Assam Students' Union (AASU).
Meanwhile, reports of tens of thousands of agitators hitting the streets, clashing with police and plunging the state into chaos made the headlines. Assam Police Director General Bhaskar Jyoti Mahanta had informed that they had extended indefinitely to control deteriorating law and order situation and suspended the mobile internet in 10 districts for 24 hours. The internet ban would be effective from 7 pm today to 7 pm tomorrow. Citizenship Amendment Bill 2019 Passed in Rajya Sabha, 125 MPs Support Law to Naturalise Non-Muslim Refugees, 105 Vote Against CAB.
The ban has been imposed in Lakhimpur, Tinsukia, Dhemaji, Dibrugarh, Charaideo, Sivasagar, Jorhat, Golaghat, Kamrup (Metro) and Kamrup districts of Assam. Apart from this, District Magistrate of Dibrugarh has ordered the closure of liquor licensed premises from 4 pm today for 'preservation of public peace and tranquillity'. Also, one column of the Indian Army was on standby in the state.
It is to be known that the Union Home Ministry and Indian Army is closely monitoring the situations in Assam. According to the CAB 2019, which has already been approved by Rajya Sabha, proposes to give citizenship to Hindus, Christians, Parsis, Jains, Buddhists and Sikhs facing religious persecution in Pakistan, Bangladesh and Afghanistan.