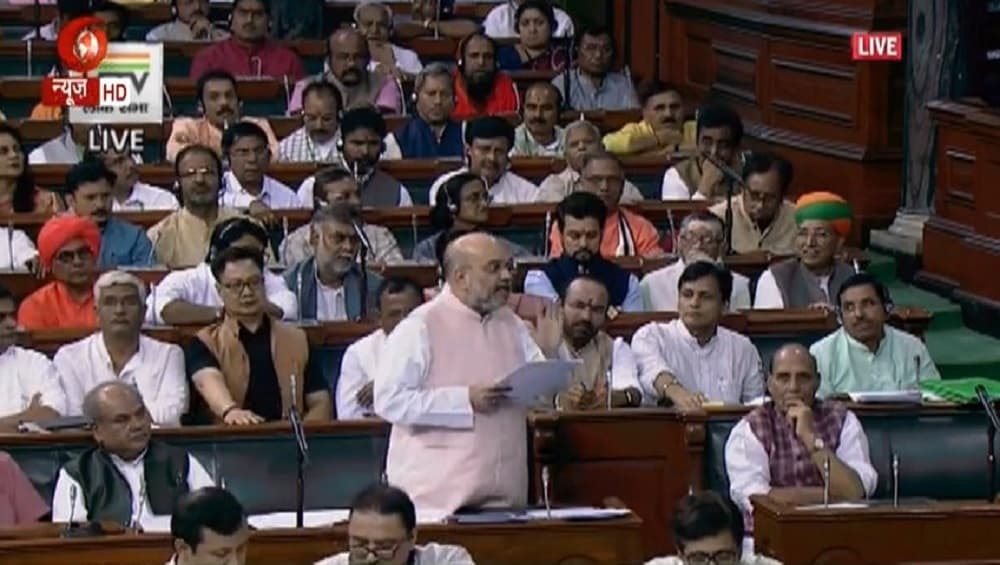 New Delhi, December 9: The contentious Citizenship Amendment Bill 2019 is set to be tabled in Lok Sabha today by Union Home Minister Amit Shah. The law, which aims to naturalise non-Muslim refugees, will be taken up discussion in Lower House of Parliament and is likely to be passed tomorrow. After clearing the decks in Lok Sabha, the Bill would sent for assent in the Rajya Sabha, before being forwarded to the President for final approval. Citizenship Amendment Bill 2019 in Parliament: How Numbers Stack Up For Modi Government in Lok Sabha & Rajya Sabha.
Although the ruling Bharatiya Janata Party (BJP) enjoys a brutal majority in Lok Sabha, its attempt to pass the law will be met by considerable Opposition. Congress' Lok Sabha leader Adhir Ranjan Chowdhury said the party lawmakers have been instructed to oppose the Bill tooth and nail due to its "anti-constitutional" features.
The Bill, he said, will be in violation of the founding principles of the Constitution as it chooses religion as a factor of citizenship. "It is against the country's secular ethos, tradition, culture and civilisation," said Chowdhury, who represents West Bengal's Berhampur constituency in Lok Sabha.
Law Introduced in Lok Sabha
Lok Sabha: 293 'Ayes' in favour of introduction of #CitizenshipAmendmentBill and 82 'Noes' against the Bill's introduction, in Lok Sabha pic.twitter.com/z1SbYJbvcz

— ANI (@ANI) December 9, 2019
The proposed legislation aims to grant citizenship to non-Muslim refugees from Pakistan, Bangladesh and Afghanistan who entered India on or before December 31, 2014. Those eligible to be granted Indian citizenship are Hindus, Sikhs, Christians, Parsis, Jain, Buddhists and Parsis who fled the three neighbouring nations.
Amit Shah, while responding to the flak received from Opposition parties over the proposed law, said India is duty-bound to provide citizenship to minorities of three Muslim-majority neighbouring nations who have fled due to persecution. The Muslim refugees have been excluded from the list of beneficiaries as they do not suffer persecution in Pakistan, Bangladesh and Afghanistan, the Home Minister claimed.
A section of the Opposition camp, however, retorted to his claim by pointing that Balochs, Pashtuns, Shias and Ahmadiyyas in neighbouring nations have also faced discrimination. "India is home equally to all religions and that people of all religions must get equal treatment," CPI(M) general secretary Sitaram Yechury pointed out.