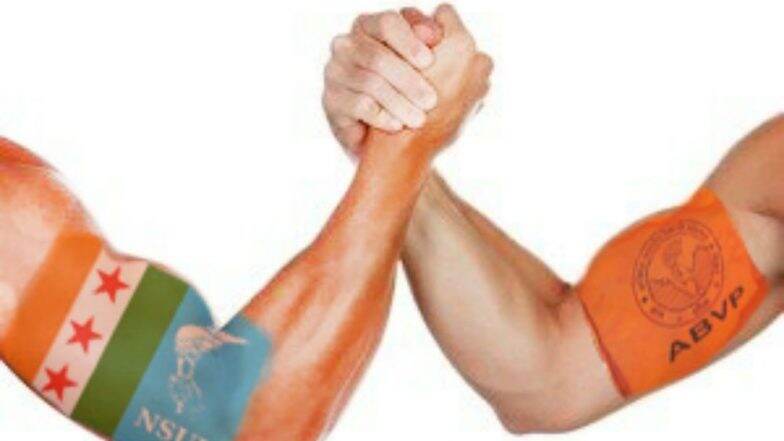 New Delhi, September 13: The Akhil Bhartiya Vidyarthi Parishad (ABVP), the student wing of the Rashtriya Swayamsewak Sangh (RSS), retained three posts, including that of the president, in the Delhi University Students' Union (DUSU) elections. National Students' Union of India (NSUI), the student wing of the Congress, won only one seat. The counting of votes for the DUSU elections results was held on Friday. ABVP Erects Statues of VD Savarkar, Subhas Chandra Bose, Bhagat Singh at Delhi University North Campus Overnight.
ABVP's Akshit Dahiya won the presidential post while party's candidate Pradeep Tanwar was declared as the vice president. NSUI's Ashish Lamba won the secretary's post while ABVP's Shivangi Kherwal emerged victorious on the joint secretary post. The counting had to be suspended for few hours following some issues earlier today but was resumed amid heavy police deployment.
DUSU Elections Results 2019: List of Winning Candidates of ABVP And NSUI
| | | |
| --- | --- | --- |
| Post | Winning Candidate | Party |
| President | Akshit Dahiya | ABVP |
| Vice President | Shivangi Kherwal | ABVP |
| Secretary | Ashish Lamba | ABVP |
| Joint Secretary | Shivangi Kherwal | NSUI |
ABVP and Congress's students' wing NSUI. Catch live updates on the DUSU elections results here. Polling for the top four posts took place yesterday. The voter turnout recorded across 43-morning colleges was 39.69 percent. There were 16 candidates in the fray.
In the college students unions, both the ABVP and the NSUI claimed to have won the majority. Where ABVP claimed to have won over 48 seats in 51 colleges, with their 17 panels winning the elections.
DUSU is the representative body of the students from most colleges and faculties. Apart from DUSU, which is an umbrella council, each college also has its own students union for which they hold separate elections.